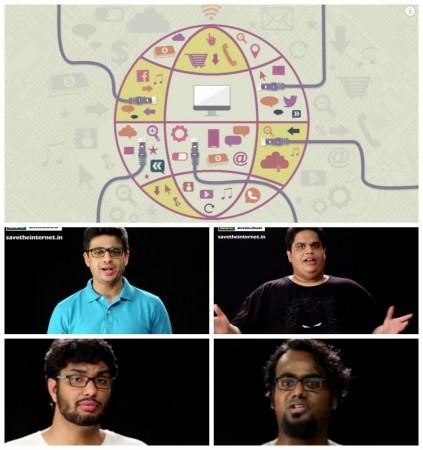 With the popularity of technology, Internet has become an inevitable part of one's life, and people all over the world consider it a medium to express their views.
In this situation, after the controversial All India Bakchod (AIB) roast, the AIB team has come up with a new awareness video in an attempt to 'Save the Internet'.
The video gives an insight into the idea of net neutrality, which means internet service providers "give their customers equal access to all lawful websites and services on the internet, without giving priority to any website over another", reads netneutrality.in.
It then says that due to telecom operators like Airtel and Vodafone's intense lobbying, telecom regulator Telecom Regulatory Authority of India (TRAI) plans to allow them to "block some apps and websites" to force users to pay more money, which goes against the spirit of net neutrality.
This has resulted in a backlash from many Internet users, and team AIB has requested netizens to support its "Save the Internet" campaign by sending an e-mail to the regulator by 24 April, 2015 – the deadline set by TRAI for sending responses – by logging on to www.savetheinternet.in.
The nine-minute long video by AIB, posted on YouTube on Saturday, 11 April has gone viral on social media, and has received more than nine lakh views within two days.
Check out the video below:
Meanwhile, almost all Bollywood celebs, including Shah Rukh Khan, Sidharth Malhotra, Farhan Akhtar, Varun Dhawan, Sonakshi Sinha, Alia Bhatt, Arjun Kapoor, Parineeti Chopra have come forward to Save the Internet by expressing their support by posting #SaveTheInternet on their social media profiles.
Check out the celeb reactions below:
https://t.co/C8TJOL2aWx #SaveTheInternet"

— Shah Rukh Khan (@iamsrk) April 11, 2015
Sidharth Malhotra
#SaveTheInternet push for net neutrality,Internet is a utility not a luxury
Farhan Akhtar
Please give 30 seconds of your time to do this. http://www.savetheinternet.in/ #SaveTheInternet #NetNeutralityIndia
Sonakshi Sinha
#SaveTheInternet #SaveTheInternet #SaveTheInternet #SaveTheInternet #SaveTheInternet #SaveTheInternet http://www.savetheinternet.in ✌️
Alia Bhatt
#SaveTheInternet
Varun Dhawan
#SaveTheInternet come on india
Parineeti Chopra
Save the internet!!! Net neutrality is crucial !! Proud of you boyses!! @mojorojo @thetanmay @AllIndiaBakchod Time to send an email!!! http://www.savetheinternet.in
Everyone needs to see this video https://t.co/xLwDpEKBTI — Riteish Deshmukh (@Riteishd) April 12, 2015
Arjun Kapoor
Come on India, you need to #SaveTheInternet, and here's why https://youtu.be/mfY1NKrzqi0 make ur click count #NetNeutralityIndia
Bipasha Basu
#SaveTheInternet Nowwwwww!
Ayushmann Khuranna
#SaveTheInternet. Let's do this! https://m.youtube.com/watch?v=mfY1NKrzqi0 ... Well done @AllIndiaBakchod