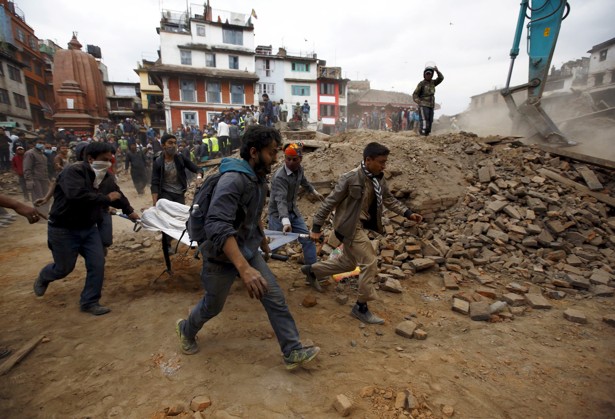 Even as Indian aid and rescue teams have been tirelessly assisting neighbouring Nepal since a devastating earthquake last Saturday, some Nepali communist leaders are looking to give the human tragedy a political tinge by fanning fears of a threat to national security from India.
Senior communist leaders in Nepal have reportedly told Prime Minister Sushil Koirala to keep the Indian forces' relief efforts in check, stating that India was posing a national security threat through its 'intervention'.
Communist leaders Pushpa Kamal Dahal, UCPN (Maoist) chairman, Mohan Baidhya of CPN-Maoist, and Narayan Man Bijukchhe of the Majdoor Kisan Party raised the issue with the prime minister at an all-party meet, local daily Annapurna Post has reported.
The leaders reportedly said that Indian border forces were 'going beyond the control' of the Nepali government, and that their activities were 'not helpful' in rescue and relief.
One of the communists also said that Indian relief efforts were focused on Nepal's northern border with China.
"This would hamper our relations with China," Baidhya said in the meeting, according to the local daily.
Negative reports amidst the earthquake disaster prompted the Indian Embassy in Kathmandu to issue a press statement stating that the Indian teams were working in accordance with the Nepal government's instructions, IANS reported.
The communists' allegations come even as other nations, including Pakistan, have lauded India's efforts in helping Nepal from the initial hours of the earthquake tragedy.
National heads, such a Israeli Prime Minister Benjamin Netanyahu and Pakistan Prime Minister Nawaz Sharif, have praised India's response to the Himalayan tragedy.
My gratitude to PM @netanyahu for his kind words on India's relief & rescue efforts in Nepal including help extended to Israeli nationals.

— Narendra Modi (@narendramodi) April 30, 2015
PM Nawaz Sharif appreciated India's efforts in the rescue operations in Nepal. I thank him for his kind words. — Narendra Modi (@narendramodi) April 30, 2015