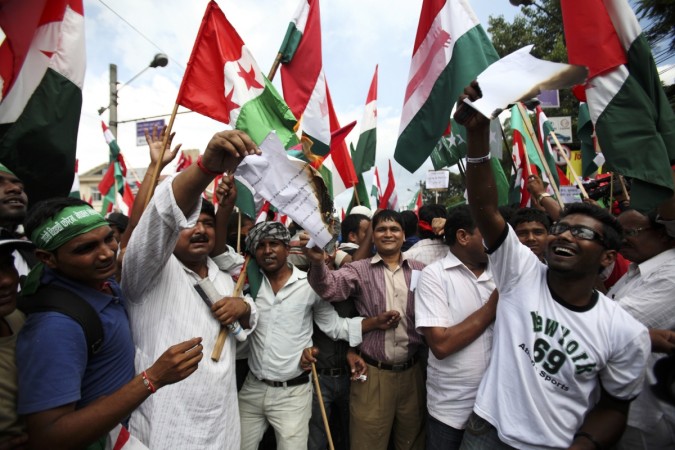 Madhesis, the ethnic group in Nepal, called off their strike on Monday and ended a blockade on trade from India imposed in September last year while protesting against Nepal's new constitution.
In a statement released on Monday, the United Democratic Madhesi Front said it is ending the trade blockade but will continue its protests against the new constitution, The Associated Press reports.
"We have called off the protests at the border, transport strike and closure of government offices," The Telegraph quoted Sarbendra Nath Shukla of the Terai Madhes Loktantrik Party, part of the Madhesi Front, as saying.
The blockade was imposed on the Indo-Nepal border, particularly in Birgunj, where most of the trade between the two countries happens. As India accounts for about 60 percent of the total imports in Nepal, the blockade severely affected the Himalayan nation that was trying to recover from the loss of the April 2015 earthquake. Several schools and market places were also shut during the strike.
The Madhesis in the Terai region of Nepal were protesting against the Nepal government's new constitution that was passed on 19 September, claiming that they were completely ignored in the newly drafted constitution.
The Madhesis said the constitution carved Nepal's seven states in a way that it cut through their ancestral homeland. They have been demanding a larger state, more government representation and more local autonomy.
For the first time in several months of the protest, Indian trucks passed the Indo-Nepal border and entered Nepal from the Birgunj-Raxaul border crossing in Bihar after residents chased the Madhesi protesters away.