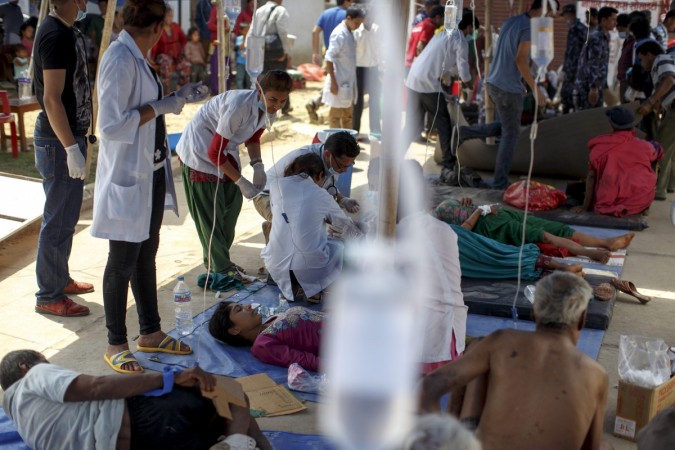 The Nepal earthquake, the worst in the last 80 years, has caused massive destruction to lives and properties in 30 of the 75 districts, affecting at least 2.8 million children, of which 9,40,000 are in need of immediate aid.
The earthquake measuring 7.9 on the Richter scale has wreaked havoc on the country, reducing many buildings, monuments and houses to rubbles, besides disrupting power and water supply. It was then followed by over 60 aftershocks, forcing people to stay in the open, despite rain and cold.
What the survivors need at the moment are water, clothing, food, tents and medicine. The donations need not be only in kind, as monetary contributions are also needed. Apart from the government of India, several organisations have initiated relief funds to collect money for the affected citizens of Nepal to provide them food, clothes, clean water, medicines and shelters.
UNICEF has started an initiative to collect funds for the quake-affected children and adults. "The first priorities are lifesaving interventions—getting essential medicines, nutrition and safe water to children and families in immediate need," says UNICEF website. You can donate through UNICEF here.
'Global Volunteer Network' (GVN) is collecting funds for 'Nepal Recovery and Rebuild Program'. GVN has planned to develop "recovery and rebuild program for when the immediate relief operations are over". When possible, they will send groups of volunteers "to disburse funds and materials and to plan for further recovery operations". You can help them in their initiative to help Nepal here.
'Save the Children' is collecting donations for Nepal Earthquake Children's Relief Fund, which will work to ensure relief to children worst affected in the earthquake. Donations to 'Save the Children' can be made here.
International Federation of Red Cross and Red Crescent Societies' (IFRC) branch in Nepal, 'Nepal Red Cross Society' is raising funds to help government and NGOs in relief and rescue operations. For donations, you can visit its website here.
'Shikshya Foundation Nepal' has started a website 'Crowdrise' to raise funds through donations for Nepal Earthquake Relief Fund. The organisation has so far raised $497,837 with more coming in. To help SFN to assist in the relief and rescue operations, you can donate here.
Facebook too has started a campaign to raise funds for the Nepal earthquake victims. "100% of your donation will go to International Medical Corps and their work in response to the Nepal earthquake. Facebook will also donate $2 million to local relief efforts," it said. Donate here to help the International Medical Corps in "operating mobile medical units to deliver critically needed medical care and medicines to the regions hardest-hit by the earthquake..." and "help teams support survivors, restore healthcare and help Nepal rebuild."