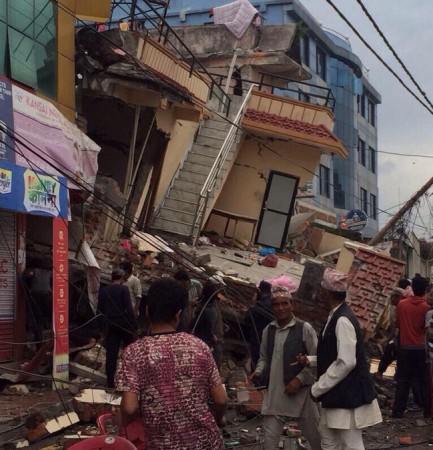 10:07 pm: A moderate 5.1 magnitude earthquake shook Jalpaiguri,Darjeeling and many other districts in West Bengal.
10 pm: United States has offered a relief aid worth $10 Million to quake-hit Nepal, according to news reports.
2:48 pm: The death toll in earthquake-hit Nepal has reached 4,100 on Monday and seven Indian pilgrims from Assam are feared dead in the quake in Himalayan country.
9:38 am: A fresh tremor shook the already affected regions on Sunday night, a day after strong earthquake followed by three tremors on Sunday afternoon led to death of over 3,200 people in Nepal and injured more than 6,500.
3:28 pm: One eight year-old girl was killed and at least seven children were injured in Rajasthan after three earthquakes shook parts of north and east India on Sunday afternoon.
3:26 pm: India will on Sunday bring back 1,500 more Indians stranded in Nepal which has been hit by four earthquakes and several aftershocks since Saturday.
2:20 pm: Kathmandu is witnessing power shutdown in many part of the city and most petrol pumps have been closed in the capital of earthquake-hit Nepal.
2:19 pm: Kathmandu Airport has been shut down, while planes carrying Indian passengers to Nepal have returned to India.
2:04 pm: Two major aftershocks followed the 6.9 magnitude quake that hit Nepal on Sunday. As much as 5.0 and 4.7 magnitude earthquakes were recorded from Kodari in Nepal and North India -- all within 27 minutes, according to NDTV report.
MEA opens 24 hour Control Room for queries regarding tragic #NepalEarthquake. Numbers: +91 11 2301 2113 +91 11 2301 4104 +91 11 2301 7905

— Vikas Swarup (@MEAIndia) April 25, 2015
LO for evacuation of Indians @ Airport Ravi Sharma 009779818700724 Ranveer Bharti 009779851107010 Negi 009779851107020 Jha 0097709818832398 — Sushma Swaraj (@SushmaSwaraj) April 26, 2015
LO for Indian Community Shri Arun Jain (Counsellor) 009779851107005 Ms Sumati Rao 009779851107006

— Sushma Swaraj (@SushmaSwaraj) April 26, 2015
State helplines for #NepalEarthquake WB 1070, Gujarat 079 23251900/ 079 23251902/ 14, Mhar'tra 011- 23380326, 022-22027990 (1/2) — Vikas Swarup (@MEAIndia) April 26, 2015
State helplines for #NepalEarthquake T'gana:- 09650990016, 040- 23454088 Andhra Pradesh: 011-23385016. NDMA 01126701728/ 29 (2/2)

— Vikas Swarup (@MEAIndia) April 26, 2015
1:57 pm: Prime Minister Narendra Modi called a high-level meeting at 3:30 pm on Sunday to take stock of the situation in earthquake-affected regions.
1:54 pm: Metro services in Delhi and Kolkata resumed after a brief halt following fresh tremors.
1:52 pm: All movement to Kathmandu has been put on hold until 4 pm following a major jolt in the quake-hit Himalayan nation.
Another round of tremors jolted Nepal on Sunday afternoon, a day after a massive 7.9 magnitude earthquake claimed at least 2,123 lives since Saturday. The aftershocks were felt in most states in North and East India as well.
The quake has triggered another avalanche in Himalayas where several died on 25 April and many were reported missing.
We feeling #earthquake again in all over India... Soo scared... Epicenter Khodari in Nepal 80k.m from Kathmandu... pic.twitter.com/O62M9aiGsm

— ※FAN⚡SRK⚡FAN※ (@iambabin) April 26, 2015
#BigStory| Fresh 6.7-magnitude earthquake jolts Nepal, tremors felt in north and east India | EARTHQUAKE AGAIN pic.twitter.com/YCyxCTXXB7

— ♛ ღ נαℓραяι ღ ❥ (@PanjwaniDolly) April 26, 2015
#earthquake again in #Nepal and #Delhi @AmmarMag47 @fztweets 6.9 in Richter — Adnan Suhail (@ismee_adu) April 26, 2015
Fresh tremors hit Delhi. #earthquake

— ANI (@ANI_news) April 26, 2015
It was an aftershock of 6.9 magnitude, we need to take precautions: OP Mishra, Seismologist pic.twitter.com/fFJmq8KhdF

— ANI (@ANI_news) April 26, 2015
Residents evacuate buildings after tremors were felt in Varanasi #earthquake pic.twitter.com/RdZckr7tE0 — ANI (@ANI_news) April 26, 2015
Measuring 6.9 on the Richter scale, the quake hit Nepal and North India at 12:41 pm, according to The Financial Express.
The epicentre in Nepal was recorded as Kodari, 80 km away from Kathmandu while the India Meteorological Department recorded the epicentre as 27.6 degrees North – 85.8 degrees East.
In India, the tremors have been felt in New Delhi, Lucknow, Uttar Pradesh and Bihar. Following the tremors, Metro services in Delhi and Kolkata were kept on halt as precautionary measure.
Kolkata Metro temporarily stopped after fresh tremors were felt as a 6.7 magnitude quake hit Nepal http://t.co/fXT13a3GQ5

— NDTV (@ndtv) April 26, 2015