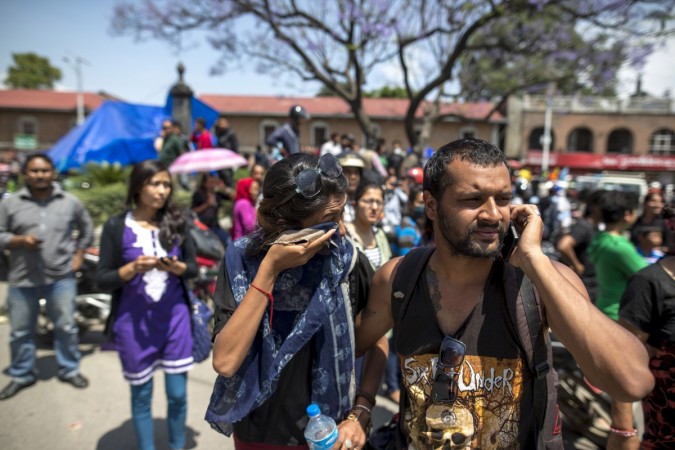 Nepal was struck again by a massive earthquake on Tuesday within weeks of the devastating 7.9 quake on 25 April that killed more than 8,000.
Tremors were felt as far as India and Bangladesh, while quakes were also reported in Afghanistan and Indonesia.
The epicenter of the 7.3 magnitude quake on Tuesday was close to the Everest base camp near the Nepal-China border.
As in the previous quake, news of the earthquake and tremors first broke on Twitter, as several Twitterati who felt the tremors posted accounts on the micro-blogging platform.
Several tweets captured the panic and fear that the fresh quakes triggered in India and Nepal.
Here are some Twitter posts that showed the situation from the ground -
We just had a major aftershock (7.1M) here in Nepal. The ground was shaking for about 45 seconds. All NetHope... http://t.co/C3uHgraHR0

— Gisli Olafsson (@gislio) May 12, 2015
Hundreds of people running of out of Kathmandu airport. Scary shaking from aftershock #NepalQuake pic.twitter.com/XiIdB0BCCS — Jack Board (@JackBoard) May 12, 2015
Dust plumes in #Kathmandu valley fom v strong tremor just now, #EarthquakeNepal pic.twitter.com/YRF1h3JWD7

— Simon de Trey-White (@ShootIndia) May 12, 2015
2nd #Nepal quake damages the @savechildrenuk ops room. Katmandu staff safe. Now checking field staff & impact on kids pic.twitter.com/dtl5FCDRdG — Cat Carter (@HumanitarianCat) May 12, 2015
There was 20-30 seconds of strong shaking. Buildings around me in Kathmandu do not appear damaged. Many people are still standing outside.

— Kai Tabacek (@KaiTab) May 12, 2015
4-story building went down in Kathmandu. Pics: @Dambarks #NepalEarthquake pic.twitter.com/OBnpB3AvG0 — Ayesha Shakya (@ayeshashakya) May 12, 2015
Shocking images from Dr Lalit flying over Namche as big #EarthquakeInNepal happens today pic.twitter.com/hs3R91uTKc

— DOCTORS FOR NEPAL (@DoctorsForNepal) May 12, 2015
#NepalEarthquake2 Landslides seen from the recce heptr of IAF, close to #Charikote and in #Lamabagar Valley. pic.twitter.com/SGDW12YF6M

— Sitanshu Kar (@SpokespersonMoD) May 12, 2015