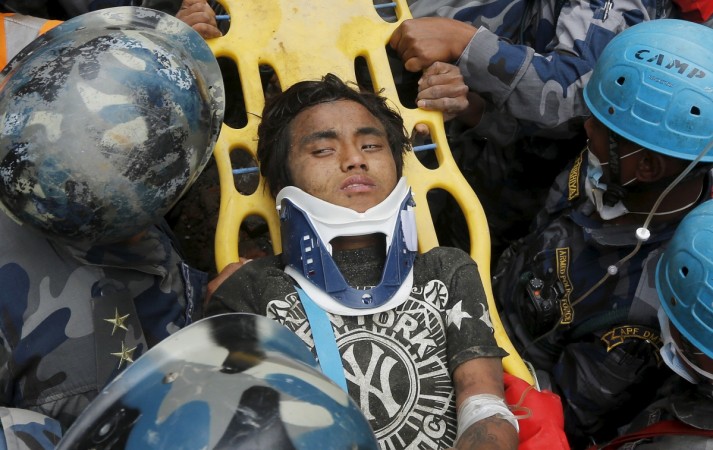 Even five days after the horrifying earthquake in Nepal, rescue operations are still underway in the country.
While more than 5,500 people have been declared dead following the earthquake, rescue operators have found some "miracle" babies, who somehow survived under the rubble for hours.
A four-month-old baby boy, Sonit Awal, was rescued 22 hours after the earthquake from a destroyed building in Bhaktapur.
The health condition of the kid is said to be stable without any internal injuries.
At least 22 hours after the earthquake struck Nepal, a miracle emerged from the rubble. CNN has obtained these powerful images showing a four-month-old boy being rescued: http://cnn.it/1bTILuX

Posted by CNN on Wednesday, 29 April 2015
Another kid, Rajkumar Shreshta was also rescued after his house in Yanglabor village collapsed. The three-year-old has suffered minor injuries.
Nepal Earthquake: How to Help Victims through Donations; How to Trace Missing People
Mirke Tamang, 9, survived with a fracture after his home in Sindhupalchowk collapsed on Saturday following the terrible earthquake. However, his two brothers, who were playing with him before the disaster, were found dead.
Sujal Bhujel, a 5-year-old kid has survived the quake with a head injury even though his house collapsed in Chartana, Sindhupalchowk. "No one gave me anything to eat for three days," he said, according to the The Times of India.
Pema Lama, 15, who survived for 120 hours under the rubble, was rescued by the Armed Police Force from Hilton Hotel, which collapsed on Saturday in Kathmandu.
FOTO'S: De 15-jarige Nepalees Pema Lama lag 5 dagen oner het puin http://t.co/TWi6Sc2O5I pic.twitter.com/0jHSFXVHI6

— Nederlandse Trends (@TrendolizerNL) April 30, 2015
Earthquake survivor Pema Lama, 15, is rescued by Armed Police Force from collapsed Hilton Hotel six days after pic.twitter.com/iDmKiDsw7m — Daily Times (@DailyTimes_DT) April 30, 2015
A survivor was pulled from the rubble in Nepal. Follow updates on the Nepal earthquake: http://t.co/JmBM07msyE pic.twitter.com/Lti3n6PO24

— The New York Times (@nytimes) April 25, 2015