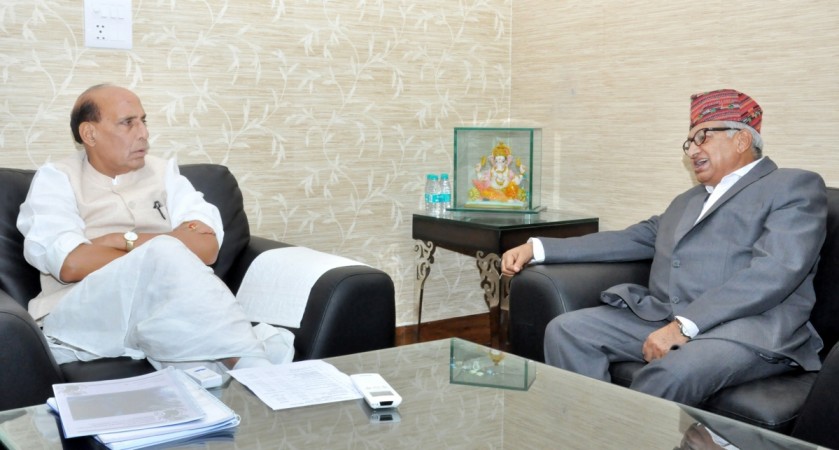 Nepal's domestic politics played out in the realm of bilateral relations with India as Kathmandu cancelled its President Bidhya Devi Bhandari's visit to India and recalled Nepali ambassador to India Deep Kumar Upadhyay on Friday. The KP Sharma Oli government in Nepal has accused Upadhyay of attempting to topple the Nepali government.
On Friday, Bhandari's slated visit to India was cancelled due to political turmoil in Nepal, which is seeing an impending split in the coalition government. The UCPN-Maoist had threatened to withdraw support to the Oli government, accusing him of not implementing the new Constitution adopted last year, as well as for failing to meet the demands of Madhesis, who have been protesting for months for more inclusion in the constitutional provisions. Bhandari was scheduled to visit India next week and meet with President Pranab Mukherjee.
Upadhyay, who has claimed to have brought India-Nepal ties "back on track," was abruptly recalled, following a Cabinet meeting chaired by Oli on Friday. According to the Himalayan Times, his recall was based on charges of non-cooperation and working against Nepal's interests.
Upadhyay reportedly claimed he was not initiated about the cancellation of the Nepali president's visit.
"It does not look good at a time when Nepal-India ties are back on track and as an ambassador I was not even informed and consulted before the cancellation of the visit," Upadhyay reportedly said in a conversation with the Nepali prime minister, according to IANS.
He was, however, asked to quit if he had "policy-wise differences." Upadhyay is a leader of the Nepali Congress, which is currently in the Opposition.
Indian government sources called Nepal's move a "complete overreaction" over domestic issues, according to the Indian Express.
This fallout of Nepali politics in its ties with India is likely to further strain relations between Delhi and Kathmandu, which were at a low following the violent Madheshi protests, in which the protesters blocked the Birgunj-Raxaul border, leading to an acute shortage of essential goods in Nepal.
However, relations seemed to improve after Oli made his first visit to India in February after coming to power.
"The main reason for my visit is to clear the misunderstandings that have settled in the last few months," Oli had said.