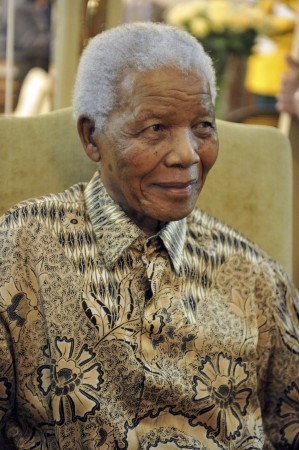 Former South African president Nelson Mandela has been put on ventilator on Wednesday afternoon as his condition grew critical for the fourth consecutive day.
"Yes, he is using machines to breathe. It is bad, but what can we do," Napilisi Mandela, a family elder, told AFP.
According to reports, Mandela has been facing difficulties in breathing smoothly and thus required external assistance. The 94-year-old leader was hospitalized since early June for a recurring lung infection.
In the wake of Mandela's deteriorating health, President Zuma Jacob has cancelled his Mozambique visit on Thursday, where he was scheduled to attend a summit. He had visited the ailing anti-apartheid icon the previous day.
"President Zuma was briefed by the doctors who are still doing everything they can to ensure his well-being," said a statement from the presidency.
As the news of Zuma cancelling his trip made rounds, the nation's already gloomy state was accentuated further. Several streets bore the look of dismay as walls of graffiti, posters and candles were put up praying for the beloved hero's recovery.
The Mandela family is almost prepared for the inevitable. Mandela's daughter Makaziwe in an interview with CNN said, "All I pray for as a daughter is that the transition is smooth. He is at peace with himself. He has given so much to the world. I believe he is at peace."
Mandela's critical condition has even cast a shadow on US President Barrack Obama's much-awaited visit to the African continent. The White House is yet to say if Mandela's condition will have an impact on Obama's trip. There exists a possibility of the US President meeting Mandela's family in the coming days.