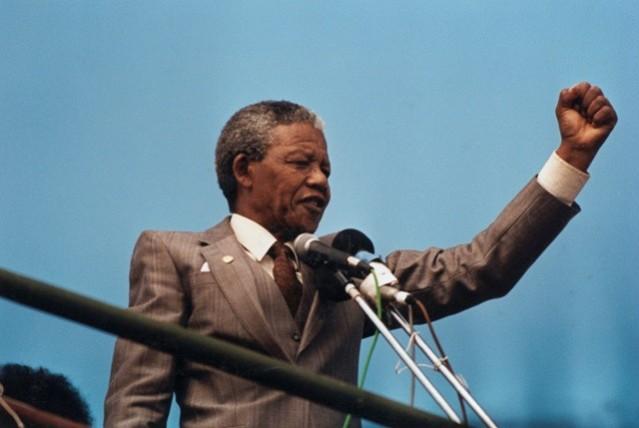 South Africa is commemorating the first death anniversary of Nelson Mandela, who died last year at the age of 95.
The country is marking the day with an interfaith prayer service, wreath-laying ceremony by veterans of the anti-apartheid struggle, as well as a cricket match, RTE news reported.
In a symbolic remembrance of Mandela's 67 years of public service, the ceremony would last six minutes and seven seconds and would include sounding of bells, hooters and traditional horns for three minutes and seven seconds, followed by three minutes of silence.
Many other events including widespread artistic performances have been planned for the weekend and beyond, in remembrance of the leader who led South Africa out of the apartheid era by enduring 27 years in prison.
Few people have had as much impact on history as Madiba, as he was fondly called by dear ones, has. Along with being South Africa's first black president and Nobel Prize winner, he was also a prolific orator.
Below are some of Mandela's most inspiring quotes, starting with a video of his 1994 inauguration speech:
Never, never and never again shall it be that this beautiful land will again experience the oppression of one by another.- From Mandela's inauguration speech on the 10th May 1994.
No one is born hating another person because of the color of his skin, or his background, or his religion. People must learn to hate, and if they can learn to hate, they can be taught to love, for love comes more naturally to the human heart than its opposite.- Mandela's autobiography "Long Walk to Freedom"
Our children are our greatest treasure. They are our future. Those who abuse them tear at the fabric of our society and weaken our nation. – From speech at National Men's March, 1997.
For to be free is not merely to cast off one's chains, but to live in a way that respects and enhances the freedom of others. – From autobiography "Long Walk to Freedom".
I HAVE fought against white domination, and I have fought against black domination. I have cherished the ideal of a democratic and free society in which all persons will live together in harmony with equal opportunities. It is an ideal which I hope to live for, and to see realised. But my Lord, if needs be, it is an ideal for which I am prepared to die."- Defence statement during the Rivonia Trial, 1964.