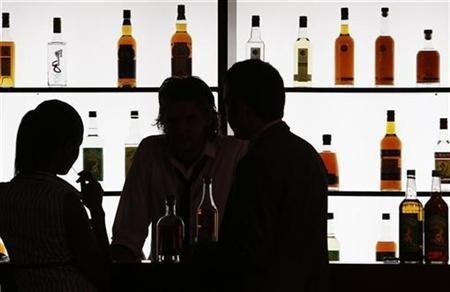 A nine-year-old British girl has become the youngest victim to the deadly drinking game called Neknomination that has been spreading rapidly across the world.
She was reportedly hospitalized after downing a cocktail of vodka and whisky, after her friends - having seen similar activities in Facebook - dared her to perform the stunt.
She was picked up by her horrified mother as the child was riding home "all over the place" on her electric scooter having finished the game, the Daily Mail reported.
The young girl recognized by the British tabloid as Rhiannon Scully, later reportedly had her stomach pumped and was monitored overnight in hospital.
The girl's mother Michelle Scully, 32, told the newspaper that the drinking dare was filmed on a mobile, but was deleted soon after. The alcohol was taken by the girl from a cupboard at her friend's house without the knowledge of any parent, the report said.
The primary school student from Leadgate, Country Durham, is the latest in the spate of people playing this deadly drinking amusement.
The lethal drinking game, thought to have originated in Australia, is sweeping through many parts of the world. The game has shown signs of escalating out of proportion, after five men - aged 30 or below - died after playing it.
The game, which is widely considered as an horrific experimentation, involves filming oneself downing an alcoholic beverage - very often in large quantities - and then nominating a friend, daring him or her to outdo the act. The video will then be posted on social media, such as Facebook or YouTube.
Rhiannon's mother said that when she found her daughter, she was rolling her eyes "into the back of her head".
"When I saw her, I was raging, I was upset and angry. I was also scared because we didn't know what would happen at this point," she was quoted as saying.
"I saw her in her uniform with two other friends. I ran to her, she was falling over and she didn't know where she was. She could have been run over; she was riding her scooter at the time."
The mother of the young girl also said that she and her husband believed Rhiannon drank vodka and whisky mixed with orange juice after being dared to perform the stunt by her two friends who are also aged nine.