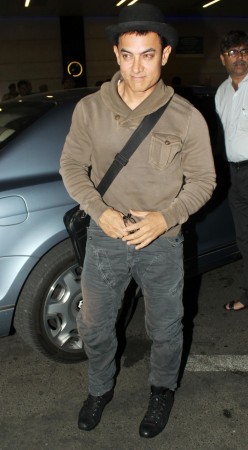 Latest buzz doing the rounds is that Aamir Khan is the frontrunner for Karan Johar's "Shuddhi," according to Filmfare.com
Johar's ambitious project has been on the backburner ever since the film's original leads Hrithik Roshan and Kareena Kapoor Khan opted out of it.
While recent reports have confirmed Deepika Padukone's presence in the project, speculations around the male cast refuse to die.
Recently, various tabloid reports claimed that Ranveer Singh is on the verge of signing the film and the actor reportedly met with Johar and director Karan Malhotra for the purpose.
But yet again, the situation has gone back to point zero as reports of Khan being in talks for the male lead has now emerged. The superstar is likely to romance Padukone in the love story, which has the theme of re-incarnation, according to media buzz.
However, Khan's association with the project cannot be immediately confirmed and is open to conjectures.
Interestingly, alleged reports of Khan and Padukone being considered for a science-fiction film under Excel Entertainment has been in the news for some time. The 48-year-old denied them as rumours, but the reports fail to die.
And whether "Shuddhi" will manage to score a fresh pairing with Padukone and Khan would only be known in the days to come.
But the actor will soon be seen backing actor Jackie Shroff's son Tiger Shroff, who is set to debut with "Heropanti." The superstar, who shares a comfortable rapport with Jackie will reportedly unveil Tiger's movie's trailer in the first week of April.