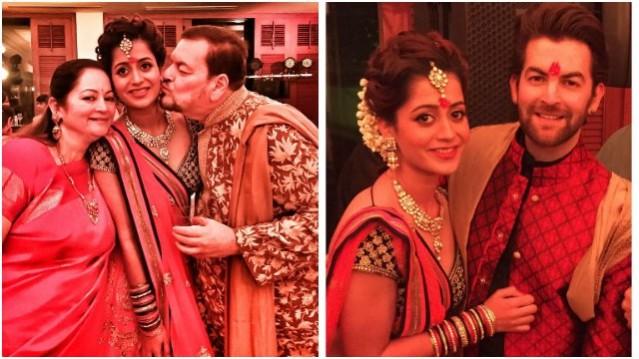 Neil Nitin Mukesh's Udaipur wedding last year was a picture perfect moment as the family welcomed Rukmini Sahay, February 9.
And now the couple is expecting their first baby soon. Neil made an announcement on social media with some adorable posts. The picture was captioned as: "To Be Delivered Soon, Now we will be THREE."
Talking to Mid-Day, Rukmini said: "Neil will be an excellent doting father just as he is a fantastic husband. He loves children. The family has been taking great care of me. We have been doing a lot of baby shopping over the past few months apart from doing a lot of activities together like meditation, yoga, and music."
Grandfather-to-be, Nitin Mukesh, also expressed his happiness and said: "This is the 4th generation of the Mukesh legacy. This means the world to us and we are very elated. The one thing Nishi and I were looking forward to after Neil got married was a grandchild. In fact, Nishi has started redesigning the family cot that has been passed on from generation to generation for the new arrival."
Mid-Day reported that the couple will host a godh bharai function in Mumbai after Neil wraps up his upcoming film 'Saaho' in Abu Dhabi.
Speaking to Mid-Day Neil said: "The arrival of our firstborn hasn't seeped in yet but I'm definitely very excited for the next phase in my life. I am lucky to have great support system at home, who are constantly guiding Rukmini on the dos and don'ts. We are okay with a baby girl or a baby boy as long as the baby is healthy."