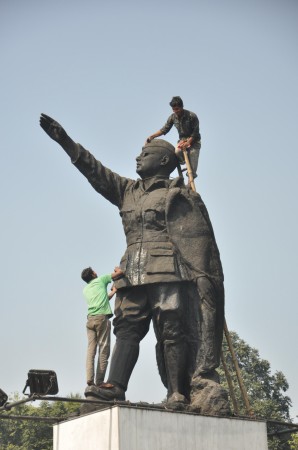 It has been a known fact that Subhash Chandra Bose was not exactly in the good books of either Jawaharlal Nehru or Mahatma Gandhi. However, in a shocking revelation, two recently declassified Intelligence Bureau (IB) files show that the Jawaharlal Nehru government spied on Netaji Subhas Chandra Bose's family for nearly two decades.
Continuous vigilance on Bose's family members between 1948 and 1968 has been reflected in the files, which have since been moved to the National Archives. The Intelligence Bureau reported directly to Nehru during that time, reports India Today.
It is still not clear as to why the agency had Netaji's nephew siblings Sisir Kumar Bose and Amiya Nath Bose under their radar. The Bose family has been stunned by the discoveries.
"Surveillance is conducted on those who have committed a crime or have terror links. Subhas babu and his family fought for India's freedom; why should be they placed under surveillance?" asks Chandra Kumar Bose, his grand-nephew.
Anita Bose-Pfaff, Bose's only child, is equally astonished. "My uncle (Sarat Chandra) was politically active until the 1950s and disagreed with the Congress leadership. But what surprises me is that my cousins could have been under surveillance they had no security implications at all," she said.
Former Supreme Court judge Asok Kumar Ganguly also expressed his disapproval over the entire issue. "The documents show the intensity of the bias against Netaji and his family. More shockingly, the bias is by a government of independent India against a man who sacrificed everything for the country," Ganguly said.
Meanwhile, noted media personality MJ Akbar shared his views on the recent developments. "The government was not sure whether Bose was dead, and thought that if he were alive he would be in some form of communication with his family in Calcutta. But why would the Congress be apprehensive? The nation, after all, would have welcomed Bose's return. But that exactly was the reason for its apprehension. Bose was the only charismatic leader who could have mobilised opposition unity against Congress, and offered it a serious challenge in the 1957 elections. It is safe to say that if Bose were alive, the coalition that defeated the Congress in 1977 would have trounced it in the 1962 general elections, i.e. 15 years sooner," he said.
Bose is believed to have been killed under mysterious circumstances in an air crash in Taiwan on 18 August, 1945.