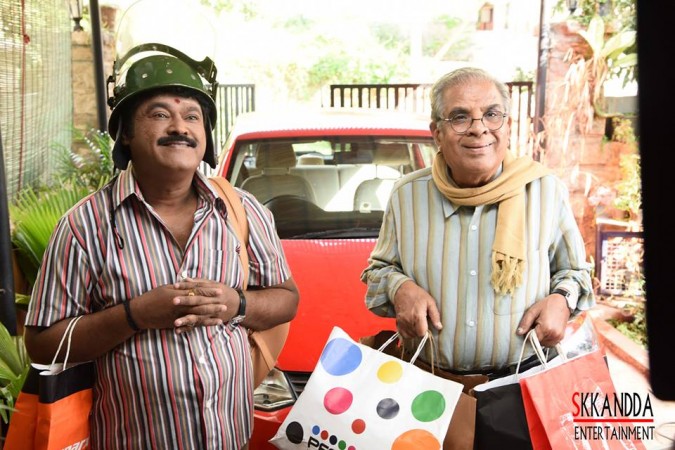 Vijaya Prasad, who impressed viewers with his debut movie "Sidlingu," is returning with his second film after a gap of four years. The latest movie, "Neer Dose," has been in the making for the last few years and has faced one hurdle after the other. Finally, the Kannada movie is ready for release and hits the screens on Friday, Sept. 2.
"Neer Dose," which is produced by Skkandda Entertainment, stars Jaggesh, Haripriya, Suman Ranganathan and HG Dattatreya in important roles. It features Anoop Seelin's music, Sugnaan's cinematography and Suresh Urs' editing.
The film has received a lot of attention from the audience, with its trailer turning out to be a hit among the masses, especially the youth. The audio too has played a major role in generating positive vibes around the film, as a few songs have struck the right chord with music lovers.
Hari Priya plays the role of a call girl (Kumudha) in the movie. The story primarily revolves around four characters - a prostitue, retired government servant (Dattatreya), a driver (Jaggesh) and a 36-year old woman. The story is being narrated with a lot of double entendre one-liners for which the movie has bagged 'A' certificate.
Review:
"Neer Dose" has opened to positive reviews. The audience have enjoyed the double entendre one-liners and have also appreciated the overall content of the flick. Listed below are some comments on the film:
Shashiprasad S M: #Neerdose bids farewell to @divyaspandana while thanking the actress for changing the course of the film
A tasty #Neerdose but takes some time until it gets digested @Jaggesh2 @HariPrriya6
Priyanka: #NeerDose shines in its presentation & the brilliantly written screenplay. Not bored even for a minute. @HariPrriya6
#NeerDose seriously a fun filled emotional entertainer. Feather in the cap for @HariPrriya6 and @Jaggesh2
Have been waiting to watch a subject backed movie of @Jaggesh2 after his #Matha. #NeerDose is the answer.
What a way to thank #Ramya..... #NeerDose begins...
VijayPrasad impressed with interesting beginning. . #NeerDose
It's dialogues all the way... #NeerDose
People are thoroughly having fun watching #NeerDose.
Done with the first half...hope #NeerDose will have enough meet in second half.
Shyamprasad: Interval. Time pass aytu. Dialogues take center stage. Inna yenu bichkoNDilla.
THE END Is it really Neer Dose? Omelette of dialogues Some kaDak roTTi scenes. Watch it NOT just for the fun..
ImNithingowda: Guarantee atleast 2-time watch movie to get and digest the #dialogues #NeerDose
Abhishek S N: A Performance to watchout for... @HariPrriya6 .. xtremely fantastic music by @AnoopSeelin ! Loved the screenplay of VijayPrasad. #NeerDose
Fun plus Philosophy .... Maja plus Meaning.. #Neerdose.. Juicy & Memorable.. Lovely performances by each and everyone. @HariPrriya6
Madhu Daithota: Satiating & a healthy mix of laughter, sentiment, music and philosophy. This Neer Dose also imparts some valuable life lessons. #NeerDose
Cineloka: #NeerDose - Emotions are blended well in an out and out Entertaining film. Go get entertained. 3.5/5 @Jaggesh2 @HariPrriya6 @AnoopSeelin
#NeerDose - Interval. Entertaining so far. @Jaggesh2 at his best. @AnoopSeelin music stands out.
Gagandeep: Jst nw watchd & came #Neerdose. Ur acting ws brilliant, lovable @HariPrriya6 mam. 100 days gaurentee. Mind blowing performance @Jaggesh2 sir
Smitha Dixit: #neerdose Bold acting by @HariPrriya6.No1 othr than @Jaggesh2 & #dattatreya cud have done ths #fullhouse #philosophy #laughter Lil sentiment
Sunayana Suresh: Those many sexual innuendos could put me off eating #NeerDose for life. Seriously! Though the film is paisa vasool for for Jaggesh fans