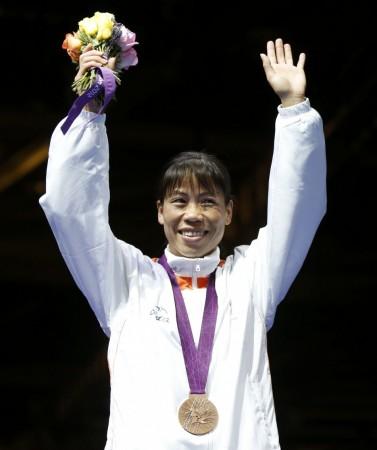 North Eastern Council (NEC) on Monday announced ₹4 million cash award to MC Mary Kom for winning a bronze medal for the country at the just concluded London Olympics 2012.
Kom displayed an exemplary performance in the 51 Kg category of Women's Boxing, which was introduced in the Olympics for the first time.
Minister of State (IC) for Development of North Eastern Region (DoNER) and Chairman of NEC, Government of India, Shri Paban Singh Ghatowar made the announcement as an acknowledgement of the hard work put in by the Olympic achievers and also as a congratulatory note to Kom.
The cash award will be handed over to the boxer by the DoNER Minister himself in a felicitation programme to be held on Sept 16 at Imphal, Manipur.
In order to support and acknowledge the excellent sport persons from the North Eastern Region, the NEC had constituted NEC Chairman's Sport Award for Excellence wherein achievers of the Olympic Games, Commonwealth Games, Asian Games and National Games were felicitated and given cash awards. It also promotes sport activities in the region by supporting the National and Regional Tournaments held in the North East.
Earlier, the Manipur government announced ₹5 million cash award for Kom after she brought home the bronze medal. The Assam government has also announced ₹2 million for her and offered free land in the state for the establishment of a boxing academy.
The five-time world champion from Manipur entered history by becoming the first Indian woman to win an Olympic medal in women's boxing. She is the third Indian woman after Karnam Malleswari and Saina Nehwal to win an Olympic medal.