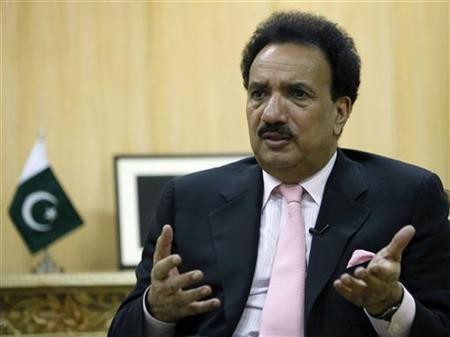 Interior Minister Rehaman Malik on Monday asked India to provide evidence supporting allegations of Pakistan's role in circulating inflammatory content which triggered a mass exodus of North-East migrants in south and west India last week.
In a telephonic conversation with Malik, Home Minister Sushi Kumar Shinde raised the issue of Pakistan misusing social media and other websites in a bid to create panic among people in the subcontinent. Responding to India's concern, Malik has promised a probe if the evidence was provided.
According to a Home Ministry report, Pakistan-based hardliners uploaded a bulk of morphed images and hate messages on different website domains and used social-networking sites to disturb communal harmony in the country.
On Sunday, Home Secretary RK Singh said that the uploaded images were not of victims of the recent Assam violence, but of people who died in a cyclone in Myanmar several months earlier.
Meanwhile, Singh also revealed that about 76 websites containing the inflammatory material were blocked and officials were working to block another 34 websites, which were identified to be spreading rumours of impending attacks on North-East communities.
Last week, India recorded a high rate of mass exodus of North-East people from several cities across the country, owing to the unverified rumours of reprisal attacks against their communities. In July, Bodo and Muslim communities in Assam were engaged in a series of ethnic clashes, which killed about 80 people and rendered 200,000 others homeless.
Bangalore city in Karnataka is the worst-affected city, with over 30,000 North-East migrants said to have exited the silicon city. Reports said that the exodus rate subsided in the last few days following repeated assurances from the government and heightened securities in localities, largely occupied by the concerned communities.