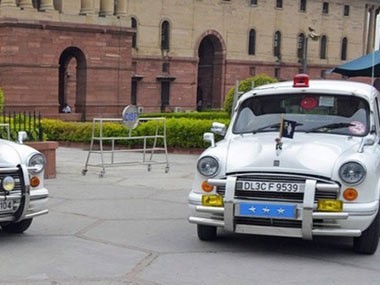 New Delhi Television's #NoVIP campaign, which asks Delhi politicians to give up red beacon cars and all the other VIP facilities, has been supported by many Twitter users. But, some Twitteratis are not sure if the initiative will last long.
Journalist, co-founder and executive co-chairperson of NDTV, Prannoy Roy introduced the campaign on Twitter when India was celebrating its 66th Republic Day.
"NDTV launches #NoVIP campaign. We're asking politicians to pledge they will not use lal battis, VIP facilities," Roy tweeted.
"Starting with Delhi elections, we're launching the #NoVIP campaign. Which politicians will pledge to skip lal battis, and more?" he mentioned in his tweet.
Many have taken the campaign in the right spirit and suggested that even Aam Aadmi Party - which had avoided using any VIP facilities and red lights on its members' vehicles in the 2013 assembly elections - will have to do the same this time as well.
"@PrannoyRoyNDTV @ndtv @AamAadmiParty and its MLAs did not use Lal Batti and no VIP privileges. I guarantee they will not use it again," Twitter user Rajeev Saraf tweeted in reply to Roy's tweet.
"Ask this question to anyone in Delhi:who can end VIP culture in Delhi? the answer will be only AAP. so you know whome to vote. #NoVIP," Satish Joshi tweeted.
After taking the charge of Delhi assembly in 2013, AAP declared that none of its ministers and officials in Delhi would use red beacon cars and also said that the party won't provide them with Personal Security Officer and escort vehicles. The party had further said that an exception would be made in case a member faces a death threat.
Apparently, NDTV seeks a similar governance. To back its campaign, the news channel has sought support from the people of India.
"@ndtv @PrannoyRoyNDTV At Tax Payers Expense Ministers enjoy Perks to run their Household. Free PERKS should be STOPPED say #NoVIP," R Oberoi tweeted.
Although the initiative has been appreciated by many, some are doubtful of its success citing the "royalty" of the Prime Minister Narendra Modi.
"#NoVIP Great initiative by @ndtv but after seein our PM's wardrobe collection & his ministers royalty, it seems to be a long way," Gaurav Kumar tweeted.
"@ndtv @PrannoyRoyNDTV #novip its not going end....because our culture talks about simplicity...encourages people to become VIP," tweeted another user Rakesh.