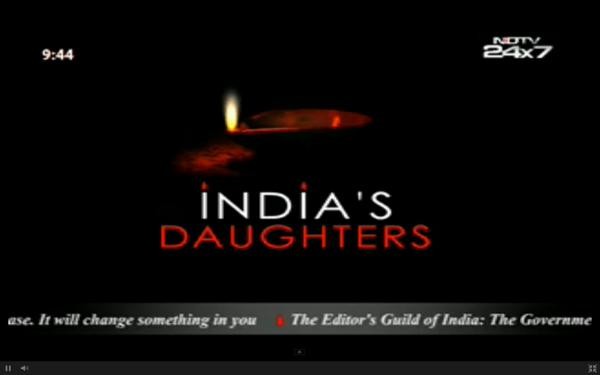 To protest the ban on the documentary film "India's Daughter", news channel NDTV went off air for an hour on Sunday evening, as part of a silent protest.
According to Firstpost, the documentary was scheduled to be broadcast on Sunday on NDTV from 9pm to 10pm on the occasion of International Women's Day.
The channel's blank screen had only a burning lamp above the name of the documentary film.
The news ticker of the channel ran quotes and opinions of various people, and institutions who condemned the ban, reports DNA.
The documentary film by British filmmaker Leslee Udwin, who is also a rape survivor, talks about the brutal gang-rape of a 23-year-old paramedical student on 16 December, 2012 in New Delhi.
The announcement that the documentary will be aired on Indian TV channels resulted in controversy, mainly due to the interview of one of the accused Mukesh Singh, prompting the government to ban the documentary film from being aired.
Despite the ban, BBC 4 had broadcasted the film, sparking more controversies.