The Bharatiya Janata Party (BJP) has been unstoppable ever since it came to power in 2014 after winning the general elections. It is conquering one state after another, and the latest to fall under its wings are three north eastern states -- Tripura, Meghalaya and Nagaland.
The party, which drew a blank in the 2013 Tripura assembly elections, won 35 seats out of 59 that went to the polls last month (election in one constituency countermanded after the death of a candidate). It is all set to form the government in the state with its ally Indigenous People's Front of Tripura (IPFP), which won eight seats.
It won only two seats in Meghalaya but is all set to be a part of the ruling government with regional parties National People's Party (NPP), United Democratic Party (UDP), People's Democratic Front (PDF), and Hill State People's Democratic Party (HSPDP), and an independent candidate. The saffron party is also set to form the government in Nagaland with its pre-poll ally Nationalist Democratic Progressive Party (NDPP) along with the lone JD(U) MLA and an independent candidate.
With Assam, Manipur, Arunachal Pradesh and Sikkim (ruled by NDA member SDF) being saffronized earlier, the whole of northeast region is under the rule of BJP and its allies except for Mizoram.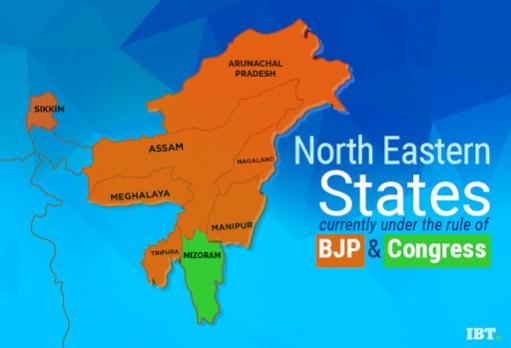 The number of states where the BJP and its allies are in power has gone up to 22 after the surprise win in the northeast, which leaves only seven states under other parties like Congress, TMC, AIADMK, TRS, LDF and BJD. It may be mentioned that Delhi is ruled by Aam Aadmi Party (AAP) and Puducherry by Congress.
Two Congress ruling states, Karnataka and Mizoram, are going to the polls this year. Karnataka assembly election is due in May and Mizoram in the second half of the year. The BJP has said that it is determined to win the upcoming elections, and if it succeeds, Congress will be close to being wiped out of the scene except Punjab where the party won with a thumping majority last year.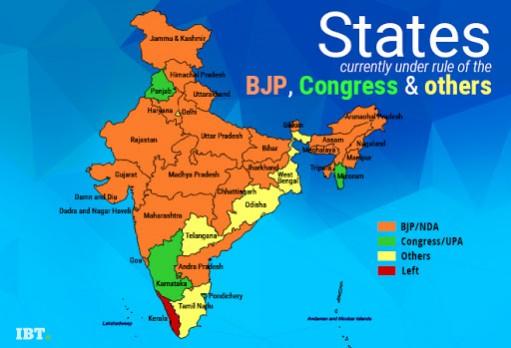 Here is list of states and union territories ruled by several political parties:
States/UTs currently under rule of the BJP, Congress and others
States
BJP/NDA
Congress/UPA
Others
Andhra Pradesh
Yes
No
TDP (NDA)
Arunachal Pradesh
Yes
No
No
Assam
Yes
No
No
Bihar
Yes
No
JD(U)
Chhattisgarh
Yes
No
No
Goa
Yes
No
MGP, GFP
Gujarat
Yes
No
No
Haryana
Yes
No
No
Himachal Pradesh
Yes
No
No
Jammu & Kashmir
Yes
No
PDP
Jharkhand
Yes
No
No
Karnataka
No
Yes
No
Kerala
No
No
LDF
Madhya Pradesh
Yes
No
No
Maharashtra
Yes
No
Shiv Sena (NDA)
Manipur
Yes
No
NPP, NPF
Meghalaya
Yes
No
NPP, UDP, PDF, HSPDP, Ind
Mizoram
No
Yes
No
Nagaland
Yes
No
NDPP, JD (U), Ind
Odisha
No
No
BJD
Punjab
No
Yes
No
Rajasthan
Yes
No
No
Sikkim
Yes
No
SDF (NDA)
Tamil Nadu
No
No
AIADMK
Telangana
No
No
TRS
Tripura
Yes
No
IPFP
Uttar Pradesh
Yes
No
No
Uttarakhand Yes No No
Yes
No
No
West Bengal
No
No
TMC
Delhi
No
No
AAP
Puducherry
No
Yes
No