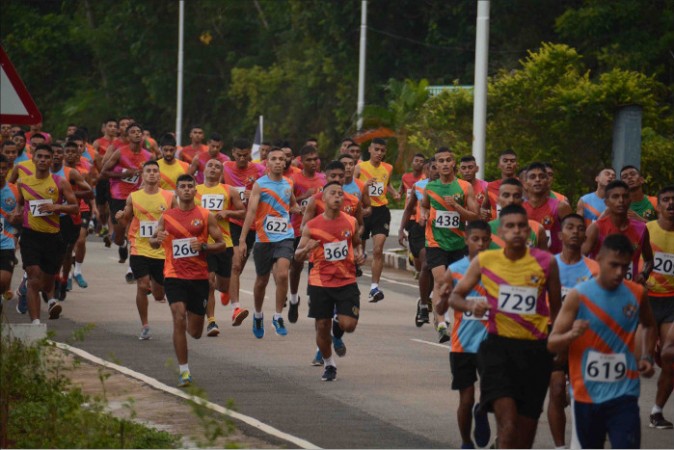 A photo of a National Defence Academy cadet carrying his injured comrade on his back during a cross-country race has taken the internet by storm and people cannot stop commending the cadet's show of team spirit and physical strength.
Chirag Arora was running in a 14-km marathon organised by the NDA in Pune on February 10. A total of 18 squadrons participated in the competition and the aim was not to beat others but to finish the race which is devoid of half-time, timeouts or substitutions irrespective of the rough terrain. The winning squadron gets the Gilder Trophy.
Arora belongs to the Echo squadron, which has been winning Gilder Trophy for a long time.
Arora, the quartermaster sergeant of his squadron, had seen when his squadron member and junior Devesh Joshi struggling to continue around 500 metres away from finishing the race. So, Arora carried Joshi in the "classic fireman lift position on his shoulders". The cadet not only completed the race in 55 minutes but also became the perfect example of 'squadron spirit'. Arora proved that helping others is way more important than personal victory.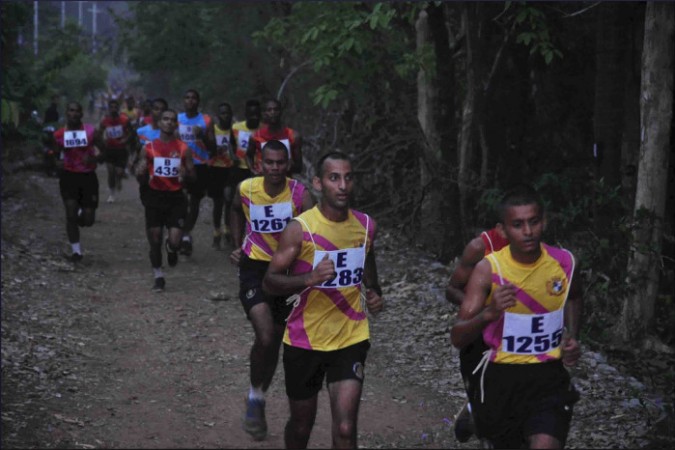 Arora said that he couldn't allow his squadron cadet to lose out on points, so he ensured that they crossed the finishing line together, The Times of India reported.
Indian Army commends Arora
A retired Indian Army Major, Surendra Poonia, took to Twitter to not only praise Arora for his camaraderie but also mentioned that Lt. General Alok Kler from Ambala went to NDA to commend Arora. The Lt. General even gave his Ray-Ban to Arora.
Soldiers's Spirit & Camaraderie !
NDA Cadet,who carried his injured buddy 2.5 kms on his back so that he is able to finish the run and not left behind.
GOC 2 Corps, Lt General Kler went from Ambala to NDA Pune to give a pat to Cadet
He also presented his Raybans to him? @adgpi pic.twitter.com/FreWNfEXeu

— Maj Surendra Poonia (@MajorPoonia) February 20, 2018
Colonel Subin Balakrishnan, a retired Special Forces Officer of the Indian Army, took to Facebook to echo the same point. "The guy carrying his comrade is quite clearly a super fit guy, who would possibly have finished top of the heap, personally," said the Colonol.
"But he has also figured out that if his injured comrade were to drop out, their squadron stands to lose much greater than what his squadron would have gained if he were to surge ahead, himself. He also has figured out that by taking that call, he himself would lose any chance of being a podium finisher," he added.
Here's how Twitter lauded Arora:
That's the buddy spirit ,which is lost these days. cadet perfectly suitable for taking future leadership role

— Aditya Kumar (@AdiK44488324) February 20, 2018
Taking care of each other and camaraderie is learned at Indian Military academies itself..

A cadet carrying another during recent cross country run at NDA.. its a team which wins not individuals in @adgpi

We live and die for each other.

We are #IndianArmy

Jai hind pic.twitter.com/v31WBglEIy

— Major D P Singh (@MajDPSingh) February 10, 2018
Hats off to Gen Kler for showing his appreciation to young cadet. A lesson & moment, he and thousands of other young officers will remember ever in life. This is how you make our Army great.
My compliments to Gen Kler being there.

— Bhola Nath, IG (Retd) (@BholaNath_BSF) February 20, 2018
Our heart beats for every soldier.Very few people actually realise that each soldier is great.War or peace a soldier is ready to contribute.Hats off to Cdt. Chirag Arora.But i think this is inherent to being a soldier,soldiers do great things naturally,making us gaze in amazement

— Saurabh A (@S1947A) February 21, 2018
Hats off to the young NDA cadet officer who showed this exemplary spirit. Great to see Lt Genl Kler recognize his efforts and motivate everyone with his timely action . ?

— Guru - eTestZone.com (@Equateall) February 20, 2018