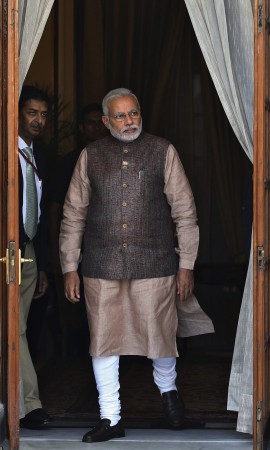 The National Democratic Alliance-led central government is likely to announce the names of new governors for a minimum of six and as many as ten states before the start of the budget session on 7 July. This move will come in line with its efforts to remove governors appointed by the former UPA government.
While governors of states such as Uttar Pradesh and Chhattisgarh had resigned following alleged pressure from the Centre, some more are expected to follow them given the BJP government's preference for appointing its own governors. The tenure of two governors, HR Bhardwaj of Karnataka and Devanand Konwar of Tripura will end this week on 28 June.
Among those reported to be in the running to be appointed as governors include former Uttar Pradesh Speaker Kesarinath Tripathi, Punjab leader Balram Das Tandon, former MP Lalji Tandon, senior party leader from Kerala O Rajagopal, former Union minister Ram Naik, Delhi leader V K Malhotra and former finance minister Yashwant Sinha, as per latest news reports.
Uttar Pradesh governor BL Joshi and Chhattisgarh governor Shekhar Dutt had resigned last week amid claims that Home Secretary Anil Goswami had called and asked seven governors appointed by the UPA government to put down their papers.
Cuurently, Uttarakhand governor Aziz Qureshi is holding additional charge of Uttar Pradesh while Madhya Pradesh Governor Ram Naresh Yadav is handling responsibilities for Chhattisgarh as well.
Goa governor BV Wanchoo, whose name has been embroiled in the Augusta Westland helicopter scam is also expected to quit soon, after the Goa unit of the BJP demanded his resignation. Wanchoo had called on home Minister Rajnath Singh on Tuesday, indicating his resignation. Haryana governor Jagannath Pahadiya is also reported to have had a word with Singh on Tuesday.
However, governors of some states, including Kerala governor Sheila Dikshit and Maharashtra governor K Sankaranarayanan among others, have stood their ground firmly so far over the resignation row.
The BJP's move to replace UPA-appointed governors with their own has been strongly criticized.
"The Centre is trying to saffronise the country by appointing RSS and BJP men as governors in states. This is dangerous for democracy," Samajwadi Party national general secretary Naresh Agarwal was quoted as saying.
However, a similar purging of appointees of a previous government had also happened in 2004 when the United Progressive Alliance had come to power and had reportedly ousted governors with an NDA lineage.