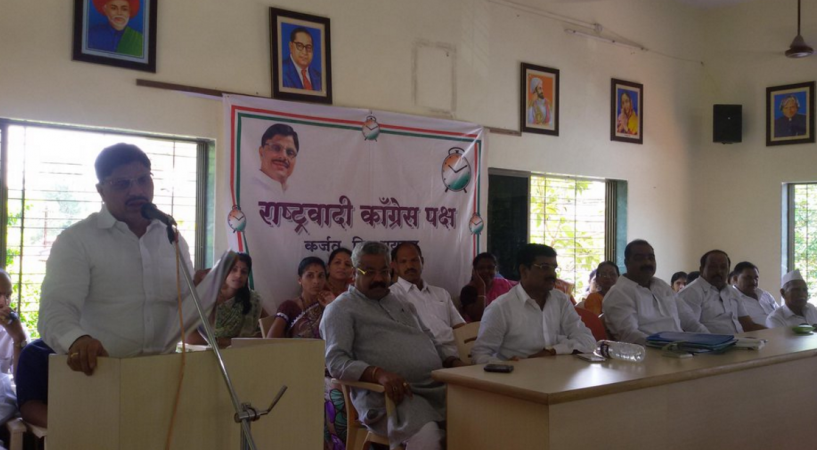 Nationalist Congress Party (NCP) MLA Suresh Lad was caught on camera slapping the deputy collector of Raigad, Maharashtra. The incident took place in the bureaucrat's office last week.
Abhay Kalgudkar is seen in the video pleading with Lad to stop hitting him. The officer had reportedly called a meeting over a land acquisition matter in Raigad when the incident took place. The MLA reportedly got angry over the compensation given to farmers. It also included Lad's land, the Indian Express reported.
Kalgudkar is heard saying "please (stop) please (stop)" while the MLA says, "I will file an FIR against you in the police station."
Lad has denied the incident occurred, the Times of India reported. The video of the incident surfaced on the internet on Wednesday.
"Why is the official silent? Why hasn't he lodged any police complaint, if he was indeed assaulted," NCP spokesperson Nawab Malik said.
An NCP member also said that the incident did not take place at the deputy collector's office but at a corporate company.
Maybe that's why the official, who was acting as an agent of that corporate, is keeping mum," he said.
Another official said that Kalgudkar has filed an official complaint with the district collector, reported PTI.
WATCH: NCP MLA from Karjat, Suresh Lad slaps deputy collector in his office in Raigad(Maharashtra)https://t.co/9KYa3vrMOi

— ANI (@ANI_news) August 17, 2016
In another incident, an Odisha minister was caught on camera forcing a personal security officer (PSO) to tie and untie his shoe straps. After receiving criticism on the issue, the minister, Jogendra Behera, said that the PSO was like his son and was helping him as he had a leg ailment.
Earlier, he had reportedly said that he was a VIP and that it was he who unfurled the Indian flag during the Independence Day 2016 celebrations, and not the PSO.