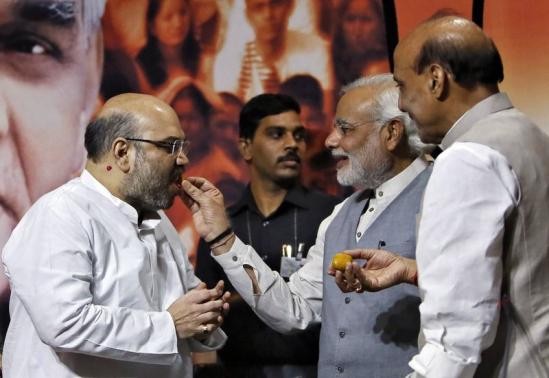 BJP, which had previously expressed confidence in winning the upcoming assembly elections in Jammu & Kashmir, might get closer to achieving their target with the National Conference party of the state parting ways with Indian National Congress.
NC and Congress officially separated on Sunday and declared they would be contesting the J&K elections alone this year. Both the parties entered into alliance in 2008 after the then government ruled by J&K People's Democratic Party (PDP) withdrew its support to INC and the government collapsed.
NC then collaborated with Congress and its party leader became the Chief Minister of the state in January 2009. After separation, Congress has declared that they would contest elections alone in all the 87 seats of the state.
Seat Distribution in J&K Polls
J&K Legislative Assembly has total 87 seats and a party needs 44 seats to win majority in the assembly. After the 2014 Lok Sabha elections, maintaining the similar position as that of the last election's, NC sustained to be the leading party with 28 seats, PDP seconded with 21 seats, Congress' seat share fell down to 17.
Although, BJP managed to win only 11 seats, it was a success for the party as it witnessed sudden rise by 10 seats from just one in the last election in the state. Moreover, BJP came out in the front with maximum voting percentage share of 32.4 percent.
Chances High for BJP to Rule Kashmir Valley
After the massive success in the general election, BJP expressed confidence of forming government in the state, setting an agenda to win more than 44 seats in the assembly poll. BJP who has won three out of six Parliamentary seats — Jammu, Udhampur and Ladakh, is reportedly basing their faith on the response Prime Minister Narendra Modi received during his visits to Kashmir valley.
Also, several people there were reported to have joined BJP last month. Former NC legislator Muhammad Shafi Bhat's daughter Hina Bhatt was one among them. She reportedly said the poor governance of the present government and other regional parties in the state forced her to join BJP.
"I am satisfied with Prime Minister Narendra Modi's Kashmir policy. When he was asked about the issue, his reply was clear that he sees Kashmir through the prism of humanity," The Economic Times quoted Bhatt.
Bhatt might have handed over support to BJP, but NC won't. Earlier this month, Abdullah challenging Modi's government, said he would retire from politics, if BJP wins the state assembly election. This has certainly made it clear that BJP would not get NC's support to win 44 seats.
While there's no possibility that Congress and BJP would join hands to form government. After all, Congress spokesman Salman Anis Soz had reportedly said the party is making all efforts not to let the Parliamentary polls repeat itself in the state assembly election.
BJP's only strong rival in the election, People's Democratic Party has also set a target to win 44 seats in the coming assembly polls, ruling out any chance of their alliance. The party president Mehbooba Mufti reportedly reiterated that they are not entering into any alliance with BJP.
The only option left with BJP is to get support from other small regional parties, which jointly has nine seats in the assembly, including four independents. State BJP general secretary Ashok Koul hinted BJP might enter into alliance with smaller parties to form government in the valley.
All in all, BJP has a chance to benefit from the current political situation in J&K as it apparently pictures that none of the parties would be entering into alliance with each other. Being in such a situation, it would be interesting to see how BJP would manage to hit the target of winning 44 seats, with its rival, too, contesting with similar agenda.