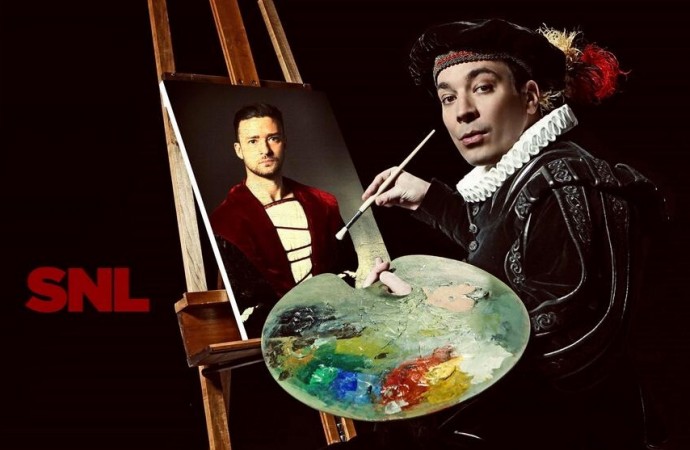 NBC network is planning to throw a giant three hour party as the long-running show "Saturday Night Live" (SNL) turns 40.
NBC has announced on Sunday, 15 February 2015, that the legendary show will be honoured with a three-hour special episode featuring all favourite cast members- present and past- as well as special musical guests and hosts who have performed during its forty year long run.
Broadcast live from NBC's famed Studio 8H in New York City's Rockefeller Center, "SNL" premiered on 11 October 1975.
"'Saturday Night Live' is an institution unlike anything else in television history," said NBC Entertainment chairman Robert Greenblatt. He also reminds that "SNL" is the one show that has, over the span of last couple of generations, taken in brilliant artists who were just "not ready for prime time" and polished them into the "who's who of film and television comedy".
"The roster includes everyone from the iconic first cast in 1975 to household names ranging from Eddie Murphy, Billy Crystal, Dana Carvey, Mike Myers, Will Ferrell and Adam Sandler, to Kristen Wiig, Tina Fey, Amy Poehler, Jimmy Fallon and Seth Meyers — to name only a few," Greenblatt adds.
The brand, which is the highest-rated variety show on the television, was the brainchild of Lorne Michaels, and had won 40 Emmy Awards, the most for any show in the television history. Moreover, it holds the title for most Emmy nominations with 175 nominations.
The show continues to garner the highest ratings of any late-night television program, entertaining millions each week and has been honoured twice, in 1990 and 2009, with the prestigious George Foster Peabody Award and cited as "truly a national institution".
The anniversary celebrations will not be limited just to 15 February, but throughout the 40th season of the show, the show's success will be commemorated. "This special is just one of the many ways we plan to celebrate 'SNL's historic 40th season next year," Greenblatt added.
"SNL" anniversary specials in the past have served as time capsules of sorts, with major players making appearances and performing their old antics.
In 1989, Chevy Chase opened the 15th anniversary special episode by doing one of the pratfalls, which he had done regularly during the show's first season. Bill Murray opened the 25th anniversary special in 1999 by reprising his "Nick the Lounge Singer" character.
This time round, from the looks of it, it is guaranteed to be forty times better. The participant lineup for the forty year anniversary special will be announced in the coming months.