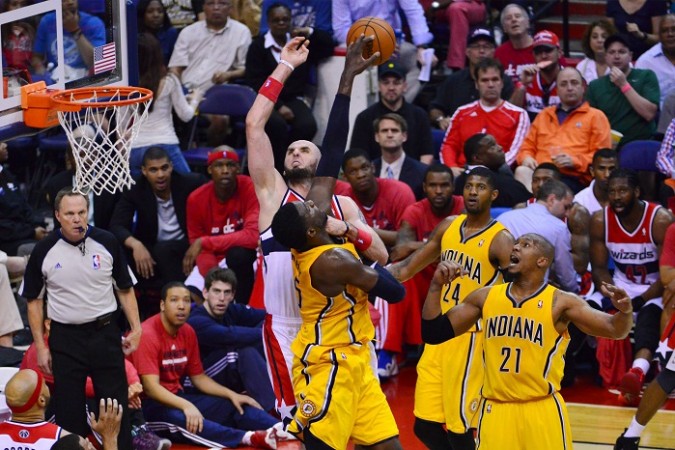 The Indiana Pacers continued their winning momentum in the fourth game to register a third straight victory over the Washington Wizards in the Eastern Conference second round series.
The Pacers have been impressive in their last two victories, as they held Washington to a lowly 69 points in the third game and then rallied back from a 19-point deficit in Game 4. With three back-to-back defeats, the Wizards are on the verge of elimination from the Eastern Conference semifinals.
Roy Hibbert is back in form after playing three good games for Indiana, while Paul George has played well on both sides of court, while getting an impressive 39 points and 12 rebounds in the last encounter.
"It has been a while," Indiana coach Frank Vogel said. "We've had a lot of guys, and it's been well documented, down the stretch they've had individual struggles that have impacted the team, the team was in a little bit of a rut."
The Wizards need a mini-miracle to keep their season alive, but Randy Wittman urged his players to step up in the fifth game without thinking about the overall situation.
"We've got to respond. We've got to step up now," Wittman said. "All of us got to come out with the mindset that this is going to be, not only from an individual standpoint but from a team standpoint, this is going to be our best game that we're going to play in this series."
The presence of Hibbert on both sides of the court has helped the Pacers in limiting the Wizards to just 79 points a game in last three encounters. Hibbert said the team is looking to give its best on the court and can't afford to be complacent after taking a 3-1 lead.
"We can't relax. I don't know what the statistics are, but we don't want to be one of those [teams that throws a 3-1 lead]," Hibbert said. "So we've got to go out there and play our best game back home. They're going to give it their all again and hopefully we'll be ready."
Indiana's four star players, including George, played at least 39 minutes in the last game and to overcome the fatigue factor, coach Vogel decided to skip practice before the potential series decider.
"It's been in the back of my mind, but these guys have played in the high 30's and in the 40's before," Vogel said. "I think they'll be OK. I think if our guys were all playing 28 or 30 minutes we could probably work in some more practice."
Where to Watch Live
The game is scheduled for a 7:00 pm ET (4:30 am IST, 11:00 pm GMT) start, with live coverage on TNT in the US and Sony Six and Sony Six HD in India. The game can be watched via live streaming option HERE or HERE. The game can be live streamed by international viewers, including India, HERE.