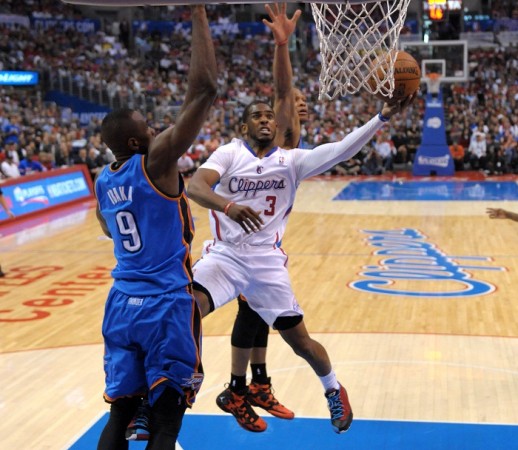 The Los Angeles Clippers will square off against the Oklahoma City Thunder in Game 5 of the Western Conference second round postseason series at the Chesapeake Energy Arena on Tuesday night.
The Thunder looked like taking a 3-1 lead in the series, only to squander a 16-point lead to lose the fourth game 101-99.
Oklahoma's Kevin Durant said it was unfortunate to lose Game 4, but they have to concentrate on the remaining games and capitalise on the home-court advantage.
"We've got to turn the page," Oklahoma's Kevin Durant said. "We gave it away. It's unfortunate, but we come back home 2-2, and we're looking forward to playing another game."
Durant was guarded by Chris Paul and Darren Collison in the entire game, still the league's Most Valuable Players managed to rack-up 40 points. Durant was frustrated by the way Los Angeles defended him in the game.
"Little guys get up under you, but they're not just going to play me one-on-one," Durant said. "Basically, they've got three guys watching me. They've got one behind me, so when I caught it, they double-teamed as soon as I caught it."
"And when they didn't double team, I scored. People always have something to say about the 1-on-1 matchup, which never happens in this league, especially with me.
On the other hand, Los Angeles' coach Doc Rivers is upset by the tactics Oklahoma has opted against Blake Griffin. Griffin was hit on the groin by Serge Ibaka in the fourth game.
"It is hard to keep your cool. You're getting hit - I think at times, illegal hits. I think he's been taking them all year and he's been doing a great job of [dealing with] it," Rivers said. "I don't know if anyone has taken more punishment this year than Blake. In my opinion, some of them have been aboveboard and some of them have not been. People keep getting away with it."
Paul said the Clippers have to start the series afresh and play with more intensity in the remaining games.
"At the end of the day, we're going to start that game off 0-0," Paul said. "We're going into their place. I think we've got to bring that same energy and mindset - not the one we started off with - but just understanding that sometimes, you've just got to impose your will. Just play hard."
Where to Watch Live
The game is scheduled for a 9:30 pm ET (7:00 am IST, 1:30 am GMT) start, with live coverage on TNT in the US and Sony Six and Sony Six HD in India. The game can be watched via live streaming option HERE or HERE. The game can be live streamed by international viewers, including India, HERE.