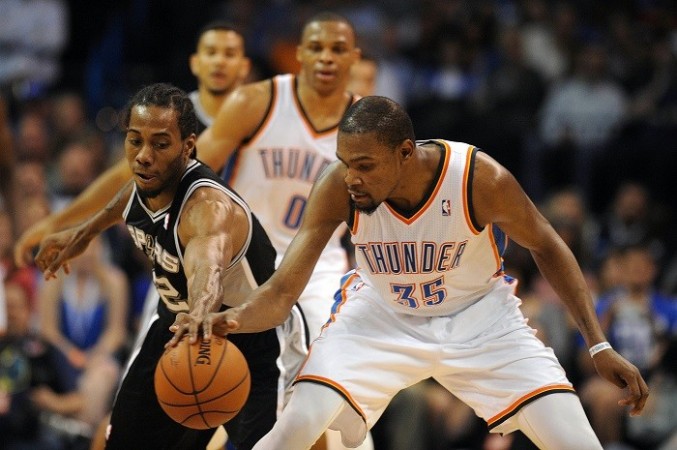 A day after ending San Antonio Spurs' winning streak at 19 games, the Oklahoma City Thunder will look to hand the Houston Rockets a fourth straight loss when the two teams meet at the Toyota Center on Friday night.
Kevin Durant and the Thunder got the better of the streaking Spurs 106-94 on Thursday, while also completing a clean sweep of the series between the two teams this regular season.
"That's a big thing," said Thunder guard Russell Westbrook, who had 27 points on the night. "When you have a team that's a good basketball team -- they're the No. 1 team in the West, and we want to be the best team, you've got to beat the best. I think we did a great job of that."
OKC's strong second half effort proved to be the difference between the two sides, with Spurs unable to find an answer. "We were really locked in defensively, particularly in the second half," forward Nick Collison said. "We were taking care of problems, so that if we did get beat we had guys aware and ready behind.
"When you're engaged defensively like that, you put guys in tough positions. You're swarming around the ball and it makes decisions more difficult. It's a result of a good consistent effort possession after possession."
Durant as always was the leading scorer with 28 points, and with it continuing his amazing streak of 25 or more points to 39 games. The Thunder superstar can tie Michael Jordan's mark of 40 consecutive games of over 25 points, the longest in 50 years, with another big effort in Houston.
"That's a lot of games to be scoring 25 points in a row," Westbrook said. "You can't just not think about that. That's an unbelievable stat. I think he may just finish the season doing that. He does that in his sleep."
While the Thunder (55-19) seem to be on a roll, the Rockets (49-25) are struggling at the moment, losing their last three games, with the latest coming against the Toronto Raptors - a 107-103 loss.
The Rockets have struggled without their star man Dwight Howard, who is struggling with an ankle injury, while the loss of Patrick Beverly has also hurt the team, with Terrence Jones struggling during the three-game losing streak with illness.
"(Missing key players) definitely changes things," former OKC guard James Harden said. "Guys are not used to playing that many minutes and being asked to make that many plays. It's tough but like I said, we have to figure out a way to get through it.
"All the good teams have had their struggles. Ours is coming late in the season and we've got to figure it out. All the top teams have been through a struggle like this. It's not like we're playing bad, we just have guys that are out and hopefully we can get those guys back."
Where to Watch Live
The game is scheduled for a 9.30 pm ET (7 am IST, 2.30 am BST) start with live coverage on ESPN in the US and BT Sport in the UK. Viewers in the US can live stream the game HERE, while UK viewers can catch all the action live online HERE. India and international viewers can watch the game via live streaming HERE.