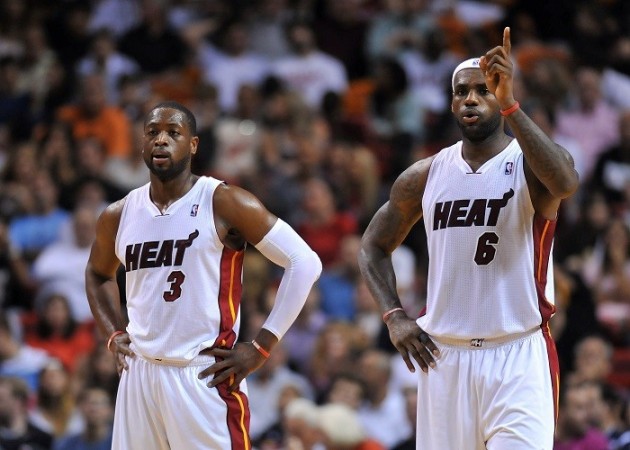 All eyes will be on JR Smith when the New York Knicks host the Miami Heat in their NBA game at Madison Square Garden.
Where to Watch Live
The game is scheduled for an 8 pm ET (6.30 am Friday morning) start with live coverage on TNT in the United States and Sony Six in India. The game can be watched via live streaming online HERE or HERE.
Smith was criticised publicly by coach Mike Woodson after the former's shoelace stunt in the last two games, where he untied or pretended to untie an opponent's lace.
The Knicks guard/forward was fined $50,000 by the NBA for "recurring instances of unsportsmanlike conduct," and Woodson seems to have finally lost his cool over Smith's behaviour.
"I'm not happy about this, because he was warned, he comes back and he makes the same mistake, and it's not right," Woodson said on ESPN New York 98.7. "It's just got to stop. I keep saying this every time something pops up, but it's got to stop.
"[It's] unprofessional about how he's approached this whole thing. Something's gotta be done. It has to stop. I'll address it when I see him, and then we'll go from there."
Smith, on the first of a three-year $18 million contract, is having a poor season and averages a mere 11.3 points per game.
The Knicks, 12-22, won their third game in the last four with a 89-85 victory over the Detroit Pistons on Tuesday, and Carmelo Anthony, who had 34 points in the win, will look to continue his love affair with Miami.
Anthony averages 38.5 points against the Heat, with the Knicks winning three out of the four games last season. This will be the first time the two clubs meet this season, and NBA champions Miami (27-8) go into the game as the form side and favourites, having won 11 of their last 13.
The Heat eased past the New Orleans Pelicans on Tuesday, with LeBron James and Dwyane Wade leading the way, coming back from an 11-point deficit before cruising to a 107-88 victory.
Mario Chalmers and Shane Battier, though, remain doubts after missing the win over the Pelicans.
For the Knicks, Tyson Chandler, Andre Bargnani and Kenyon Martin are game-time decisions due to illness, while Metta World Peace and Pablo Prigioni are unlikely to feature.