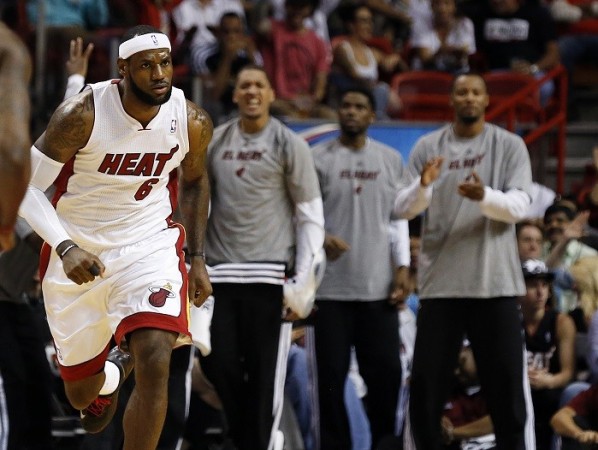 Miami Heat, after breaking a three-game skid, will look to pick up their first win over the Brooklyn Nets this season when they host Jason Kidd's men on Wednesday.
The Nets are 2-0 against the Heat this year, but both those wins have come at home. Brooklyn has a poor record against Heat in Miami, having failed to add a 'W' in more than six years.
However, holding the best record (22-9) since the turn of the year in the Eastern Conference, this might be as good a chance as any to topple the Heat, who snapped a three-game losing streak with a hard-fought 99-90 victory over the Washington Wizards, a victory which earned Miami a playoff spot.
"We needed this win," Dwyane Wade said. "We weren't down on ourselves, but we really don't like losing two games in a row and we lost three. So this was a good way to pick it back up, and now we have a great week at home."
The home swing continues against the Nets - a team on a hot streak having won six of their last seven games. "(The Nets) are playing some great basketball right now," LeBron James said. 'We look forward to playing a team that's been playing good."
Wade had 13 points in the fourth quarter to key the Heat past the Wizards on Monday, and the guard looked as good as ever playing in a rare back-to-back game, after enduring nearly 40 minutes in the overtime loss to the Chicago Bulls on Sunday.
"People made sweeping assumptions that he won't play any [games] back-to-back, but that's never been the case," Heat coach Erik Spoelstra said. "When we say everything is day-to-day, that's what we mean. If he can pass a series of exercises and tests of the routine, if his legs feel good, why hold back?
"He's ready to go and he can play. We anticipated early in the year that as the season went on, he would feel better."
With Wade looking healthy, Miami do not have any real injury worries, while Brooklyn remains without Brook Lopez with the center expected to miss the rest of the season.
Kevin Garnett has missed the last six games for the Nets, but could return along with Andrei Kirilenko, who did not feature in the 101-97 win over the Toronto Raptors because of an ankle problem.
Where to Watch Live
The game is scheduled for a 7 pm ET start with live coverage on ESPN in the US. The game can be watched via live streaming in the US HERE. Viewers in the rest of the world can live stream the action HERE.