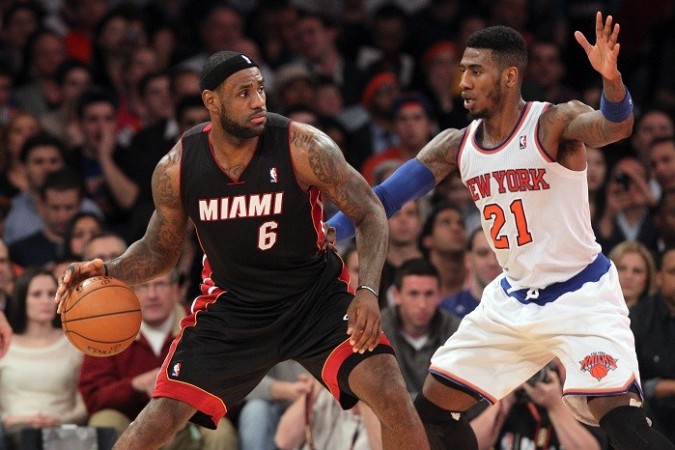 After suffering a loss in the first game of their New York swing, NBA champions Miami Heat will be keen to get one over the streaking Brooklyn Nets on Friday night.
Where to Watch Live
The game is scheduled for an 8 pm ET (6.30 am IST) start with live coverage on ESPN in the US and Sony Six in India. The game can be live streamed online for US viewers HERE. International viewers can catch the action via live streaming HERE.
The Heat, who had lost three of their four games last season against the New York Knicks, yet again failed to stop Carmelo Anthony and his team, eventually going down 102-92.
"All I know about this game is they outplayed us and they earned that win," Miami coach Eric Spoelstra said.
LeBron James had 32 points in the loss, but Chris Bosh struggled, able to finish with just six points on three of 10 shooting. Dwyane Wade had 23, but missed all six of his free throws.
"They played a great game," James said. "They made some timely shots."
The defeat to the Knicks at Madison Square Garden was only Miami's third in their last 14 games, and the Heat (27-9) will go into the Nets game knowing they can turn things around pretty quickly.
However, they do come up against a Brooklyn side (14-21) that is slowly but surely showing their potential, after a difficult early part of the season.
Joe Johnson stepped up in the absence of the injured Brook Lopez, out for the season, and Deron Williams, scoring 27 points in an impressive victory over Golden State, a win which snapped the Warriors' 10-game winning streak.
The Nets have won their last four games, three straight at home, and will look to continue that good recent form against the Heat come Friday.
"It's going to be a tough game. It's going to be playoff atmosphere. It's basically going to be a playoff game," Brooklyn's Andray Blatche said. "We beat them before. They're going to be aggressive off the jump. Got to be just as aggressive."
Nets coach Jason Kidd, who will be without Williams for at least the next two games, believes keeping hold of the ball and limiting the turnovers will be key to beating Miami, who were again without starters Shane Battier and Mario Chalmers on Thursday.
"Probably looking at two different teams from where we've gone and for them," Kidd was quoted as saying by ESPN. "It's a matter of us continuing to do what we've been doing, get better at what we've been building on. Understand turnovers, you got to take care of the ball against the Heat. Also get good looks."
"It's a big challenge," Johnson added. "We're looking forward to it. We know we can compete with any team in this league. "Even with the fact that Deron's out, Brook's out, we got to go with the guys we got and guys have to step up. That's pretty much how it's been over the past four games."