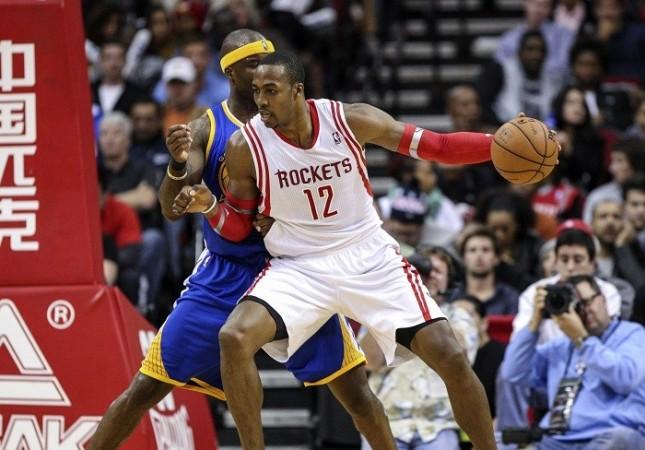 The focus will be on Dwight Howard as the big center and the marauding Houston Rockets pay a visit to the Staples Center to take on the struggling LA Lakers.
Where to Watch Live
The game is scheduled for a 10.30 pm ET (9 am IST Thursday morning) start with live coverage on ESPN and Sony Six in the US and India respectively. The game can be watched via live streaming online in the US HERE. India and other international viewers can catch the action live online HERE.
Howard left the Lakers in acrimonious circumstances after turning down a contract offer from LA following a frustrating season last year.
The former Orland Magic man has found playing in Houston much more to his liking, and has little regrets over choosing to leave the Lakers, who are headed for the lottery having won just 18 of 53 games so far this season.
"I'm in a better place, our team is doing great and the Lakers, they'll come back," Howard was quoted as saying by ESPN. "But hopefully this is the Rockets' time.
"I think there will be a lot of boos. I can't really focus too much on that. I know I'm going to hear it the whole game. All the noises, whatever you want to call it, 'Coward.' There's not anything I can do about it except to go out and play.
"This year I've been through it a lot in every city because there are Laker fans everywhere. Every city I get booed in. I think I'm a little bit prepared for it."
Howard has faced the Lakers two times already this season, both times in Houston, with the Rockets winning one and losing the other. The 28-year-old has averaged 17.5 points and 11 rebounds in those two games, a little lower than his season averages, but Howard has looked more like the dominant player everyone saw in Orland as the season has wore on.
"Dwight's one of those guys, I think he plays better when he's having a good time and is comfortable," said Houston coach McHale, whose side are on a seven-match unbeaten run. "There's nothing wrong with that. He's a guy who plays better when he has joy about him.
"When I watched him last year, he just looked out of sorts the whole year. He didn't look like the guy that I'd seen in Orlando. Now what caused that? I would say 70 percent of that was physical with the back and probably 30 percent of that was environmental. I guess it was a funky environment around here."
For the Lakers, it is pretty much about getting through the rest of the season, with their superstar Kobe Bryant pretty much injured for the whole year so far, while Pau Gasol continues to be linked with a trade away.
"As a general manager, we're always looking a year or two or three down the road," Lakers GM Mitch Kupchak said. "Our approach going into this deadline might be a little different than it's been in years past. We may look to shore up a position going into the playoff run. It may not be. But certainly I'm respectful and mindful of our record."