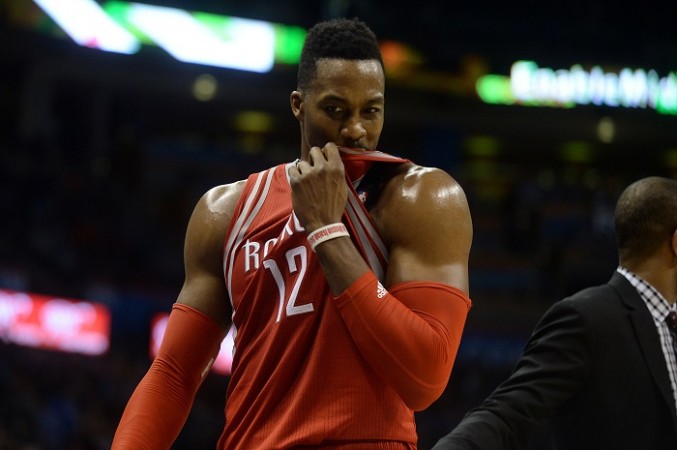 The Houston Rockets will not consider trading Dwight Howard before the trade deadline in a couple of weeks, while the NBA franchise remains focussed on making the most of the free agency market during offseason by going all out for Kevin Durant.
Howard's future with Houston has been in doubt for some time now, with several reports suggesting the centre could be traded before the deadline on 18 February. Howard is not expected to take up his option at the end of the season and will most likely be a free agent on 1 July.
However, despite that, the Houston Rockets does not plan to trade their big man, according to ESPN, who sight sources. The same sources also suggest Howard is keen on staying with the Rockets this season, with the center then likely to discuss a new contract with Houston.
Howard currently earns $22.4million, and could earn $23.3m next season, if he opts to take up the option. However, that is not expected to happen, even if Howard could still end up playing for the Rockets beyond this season.
The rumours regarding Howard's potential trade sped up on Wednesday, when the New York Daily News claimed the Boston Celtics had made trade enquiries for the 30-year-old.
"I didn't say it, what can I do," Howard said when asked about the trade reports. "There is nothing I can say. Teams are going to say what they have to say. I don't know. My mind is on trying to get better every day, and I felt like I was on a good stretch and got hurt.
"Just trying to get back, that's my mindset. We don't sit around and talk about, 'Hey what's going to happen next year?' Because that means you're really not in, and you don't want to have those thoughts."
Houston's major play in the offseason will be Durant, who is set to become a free agent. The Oklahoma City Thunder superstar is expected to test free agency, and Houston, according to the report, believes they have a pretty good chance of landing the sharp shooter considering they can give Durant a full contract, with all the bells and whistles and Houston already have one of Durant's great friends in James Harden on their books.