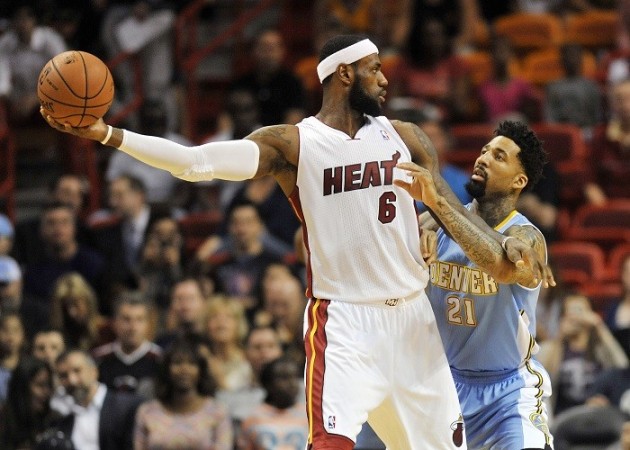 Weeks of speculations have finally came to an end, as NBA superstar LeBron James has decided to leave the American Airlines Arena and return to his home franchisee, the Cleveland Cavaliers, on a deal reported to be around $88 million, according to ESPN.
The move had ended James' four-year stay at the Heat, where he won two NBA championships following his move from the Cavaliers in 2010. James helped Miami in finishing runners-up last season against the San Antonio Spurs and was the standout performer for them.
In a statement to Sports Illustrated's Lee Jenkins, James said Miami helped him in becoming a better player and called Florida his second home. The four-time NBA Most Valuable Player (MVP) insisted that he left Cleveland because he wanted to win championships and managed to achieve that during his stay with the Heat.
The 10-time NBA All-Star added that he is still chasing championship glory with the Cavaliers, which will be tough with a young team but hoped that he will bring atleast one title to Cleveland.
"When I left Cleveland, I was on a mission," James insisted. "I was seeking championships, and we won two. But Miami already knew that feeling. Our city hasn't had that feeling in a long, long, long time.
"My goal is still to win as many titles as possible, no question. But what's most important for me is bringing one trophy back to Northeast Ohio," he added. "I always believed that I'd return to Cleveland and finish my career there. I just didn't know when."
When James left Cleveland in 2010, the Cavaliers' owner Dan Gilbert had posted a hurtful letter on the club's website, referring LeBron as "selfish" and termed his move as "cowardly betrayal". However, the 29-year-old insisted he has cleared the air with Gilbert.
"I've met with Dan, face-to-face, man-to-man. We've talked it out. Everybody makes mistakes," James said. "I've made mistakes as well. Who am I to hold a grudge?"
The Heat's president Pat Riley, who reportedly met James on Wednesday, in a statement said he is disappointed that LeBron is leaving Miami, but thanked the two-time champion for his contribution to the franchisee and referred him as a fantastic leader.
"While I am disappointed by LeBron's decision to leave Miami, no one can fault another person for wanting to return home," Riley said. "The last four years have been an incredible run for South Florida, HEAT fans, our organization and for all of the players who were a part of it. LeBron is a fantastic leader, athlete, teammate and person, and we are all sorry to see him go."