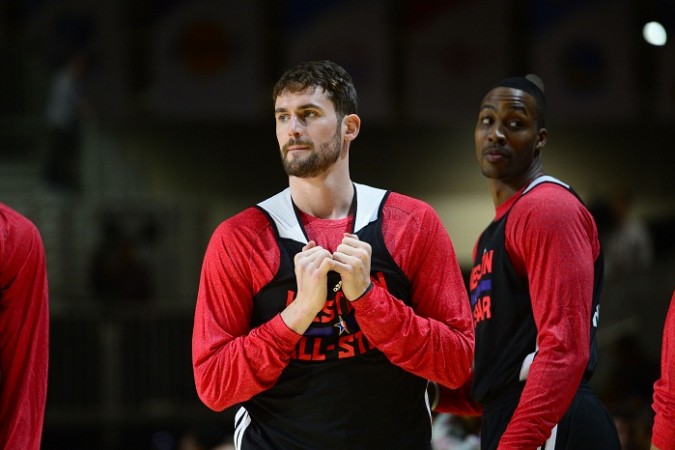 Minnesota Timberwolves' Kevin Love is certain sign for Cleveland Cavaliers and is likely to ink the contract on 23 or 24 August, according to Timberwolves owner Glen Taylor.
Love was strongly linked to the Cavaliers as after signing LeBron James the Cleveland-based franchisee was on pursuit of arguably the second best available resource in the league.
However, Taylor insisted that he wanted to to keep Love at Minnesota but the 25-year-old had already made up his mind.
"I'm saying it's most likely because Kevin has made it pretty clear that that's what he wants to do."
The trade will also include the departure of rookie Andrew Wiggins to the Timberwolves from the Cavs. Wiggins will be eligible for trade on 23 August, after completing 30 days with the Cavaliers, and they are sending him on a part exchange deal.
Love's departure will give the Timberwolves a whole new look and Taylor is already working on getting a suitable replacement for his power forward. According to reports, the Philadelphia Sixers' Thaddeus Young is considered a suitable replacement for Love.
Taylor is reportedly trying to bring in Young, who averaged 17.9 points, 2.3 assists, 6.0 rebounds and 2.1 steals per game this season. He also shot 71.2 percent from the free throw line, 30.8 percent from beyond the arc and 45.4 percent from the field.
"I think when you move somebody like Kevin, who's been an All-Star, that you've got to get a number of players on your team that have the potential of replacing him," Taylor said.
"Flip (Saunders, Wolves president and coach) has looked at this team and offensively, he's got a pretty good team," he added. "Defensively, it's got to be better, so I think that's where some of the areas will be replaced."
Love is certain to go for free next season even if he signs a deal with the Cavaliers in a bid to secure a more lucrative contract. Cleveland appears to be in the lead for landing the power forward but Love's long-time admirers the Golden State Warriors and the Chicago Bulls are still in touch with the Cavs.
But it does not matter until the Warriors are willing to trade Klay Thompson on a part-exchange deal, and they still have a few days to think about trading their shooting guard.