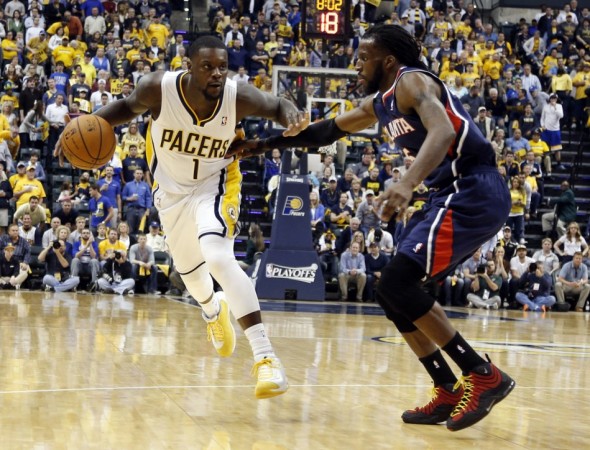 Shooting guard Lance Stephenson has joined the Charlotte Hornets from the Indiana Pacers on a three-year contract worth $27 million, reports ESPN.
The Pacers had tried to pursue the free agent by offering a five-year contract, worth around $44 million, earlier this month but Stephenson declined the offer as he was unwilling to sign a lengthier deal.
Stephenson, who was Indiana's de facto playmaker last season, tweeted about his move to Charlotte.
Indy, I had a great 4 years. Thank you Larry Bird, the fans, my coaches and teammates for the incredible ... http://t.co/9DcRknGQs8

— Lance Stephenson (@StephensonLance) July 16, 2014
The Hornets owner Michael Jordan, head coach Steve Clifford, general manager Rich Cho held a meeting with Stephenson's representatives to finalise the deal for the 23-year-old in Las Vegas a day earlier.
"Lance is forever grateful for all the love he's received from Pacers fans," Stephenson's agent said in a statement. "He is especially grateful to his teammates, Frank Vogel, Herb Simon, the Pacers management and most of all, Larry Bird."
"While we tried our best to come to the best possible terms for both sides, there was not sufficient flexibility in the terms of the contract, particularly the length of the contract.
"Reports throughout the negotiation process with Indiana have often strayed from the truth but suffice it to say that it was less about the money. Lance will miss the city, the team and the mentor who helped transform him into the dynamic player he has become.
"He looks forward to making a strong contribution and beginning a new chapter with the Charlotte Hornets," the agent concluded.
Stephenson was the standout performer for the Pacers last season as he averaged 13.8 points, 7.2 rebounds and 4.6 assists. The Pacers' president Bird wanted Stephenson onboard but the franchise was not willing to increase the offer, according to reports.
Indiana needs to find a replacement for Stephenson sooner rather than later as his absence will increase pressure on Paul George and George Hill. However, it will be difficult for the Pacers as the free agent market has almost dried up.