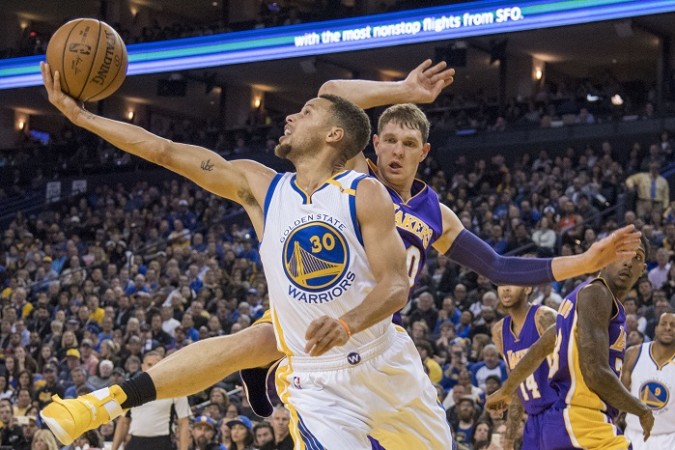 Stephen Curry had an unforgettable night when the Golden State Warriors last played Los Angeles Lakers, missing ten three-pointers and eventually losing the match. It was revenge time on Wednesday as the two teams squared off, where Curry showed his class by scoring 31 points, including seven three-pointers, to help them trounce Lakers 149-106.
Cleveland Cavaliers' Kevin Love hit eight threes against Portland Trail Blazers to win 137-125 in another huge encounter.
After the signing of Kevin Durant from Oklahoma City Thunder, the Warriors are looking an even more dangerous team as he has been consistent. Add to that, Klay Thompson, they are a force to be reckoned with in the NBA.
Rarely do all these players have an off day at once. One player or the other always stands up, which is a hallmark of a great team. With Curry's 31 points, Durant and Thompson were also equally dangerous all around the court. Durant scored 28, while Thompson scored 26.
These players are usually on the scoreboard as the highest point-scorers, but against the Lakers, Ian Clark was also at his impressive best, giving coach Steve Kerr an extra option from the bench. He scored 21 points and hit five out of five three-pointers.
For the Lakers, who knew that it was a mighty task to beat Warriors back-to-back, Brandon Ingram and Lou Williams scored 16 points each.
If Curry was red hot for Warriors, it was Love, who was having a huge night, drilling those threes to perfection. Their big three – Love, LeBron James and Kyrie Irving – were in fantastic rhythm to score 40, 31 and 20 points respectively. If these players get into the groove, they are a difficult lot to stop.
The Cavs started with a bang in the first quarter, scoring 46 points, and there was no stopping the home team, who were on a league of their own in the offensive floor. However, one should not forget the stupendous display of Damian Lillard, who scored 40 points, which unfortunately went in vain.