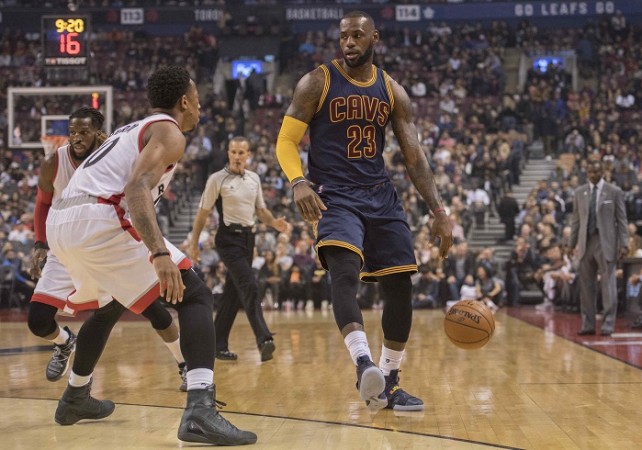 Golden State Warriors and Cleveland Cavaliers were the two outstanding teams of last season, reaching the NBA finals. Both teams have started this season well, and they continued their dominance on Sunday, with Warriors defeating Phoenix Suns in a high-scoring game, 133- 120 while the Cavs got past Charlotte Hornets 100-93.
The Warriors trio of Kevin Durant, Stephen Curry and Klay Thompson has already developed a great understanding, and put up some great shows this season. It was no different against the Suns as the three players put together 89 points. Curry and Thompson were joint top-scorers with 30 points each and Durant was not too far behind, scoring 29 points.
One also has to remember that Durant joined from Oklahoma City Thunder in free agency, and the Warriors have only played for 10 matches so far. Things are looking bright for the Warriors, who have always been a strong three-point shooting team.
The Suns faced the music on Sunday as Curry and Thompson drilled five each from beyond the arc. Though Curry and Thompson might have started slowly as far as their three-point shooting is concerned, they got their rhythm right, which is a cause of concern for the other teams in the competition.
The Suns might have outscored Warriors in the first quarter, but the home team got back into their groove and scored more than their opponents in the remaining three quarters to clinch their eighth win of the season.
Likewise, the Cavaliers also registered their eighth win of the season after defeating Hornets, which has helped maintain their number one position in the eastern conference standings. The NBA champions have shown that they are going to be a strong team this season, enjoying a 8-1 win-loss record so far.
With players like Kyrie Irving and Kevin Love shining, there is not much pressure on LeBron James, who scored 19 points against the Hornets. Irving and Love scored 19 and 17 points, respectively. With James controlling both the offensive and defensive end, it was difficult for the Hornets to get their game going on a consistent note.