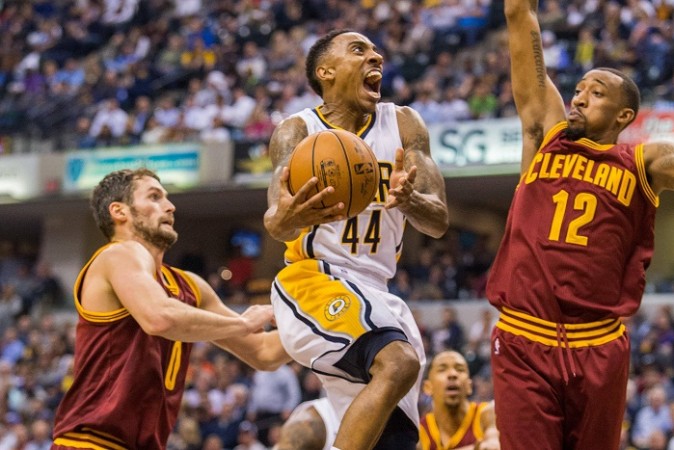 Golden State Warriors scripted their ninth win of the season as they defeated Toronto Raptors in a close encounter, which finished 127-121 on Wednesday. It was not a great day for Cleveland Cavaliers, on the other hand, losing their second match of the NBA this season.
The Cavaliers have been hugely dependent on LeBron James this season despite star players Kevin Love and Kyrie Irving being in good form. But the Cavs had to do without the services of James, who was rested for the match. Love and Irving were under pressure to deliver, and they did, scoring 27 and 24 points, but the duo did not receive much support from other players.
For instance, Richard Jefferson, Tristan Thompson and Iman Shumpert combined for nine points, which is a dismal return considering the trio were in the starting five for the Cavaliers. The result goes on to show the importance of James to the Cavaliers.
However, one should also give credit to the incredible performance of the Pacers' players. Paul George looked bright from the start, and made his presence felt with 21 points. Unlike Cavaliers, other players also contributed. Jeff Teague and Thaddeus Young scored 20 and 16 points, while Myles Turner finished with 16, helping them defeat Cavs 103-93. This was Pacers' sixth win of the season.
The Warriors, who scripted their fifth straight win, were involved in a tight affair with the Raptors. With some incredible stars like Stephen Curry and Kevin Durant (Warriors), Kyle Lowry and DeMar De Rozan (Raptors) in both the teams, a brilliant offensive game was expected. Right from the first quarter, it was an entertaining game, with Raptors scoring 38 points compared to Warriors' 34. The Warriors clawed back and finally defeated Raptors 127-121.
Curry scored 35 points for Warriors and Durant was 30 at the end of the game. The duo looked superb in the win. They were threatened with some incredible performance from DeRozan (34) and Lowry (24), but the Raptors fell short by six points.