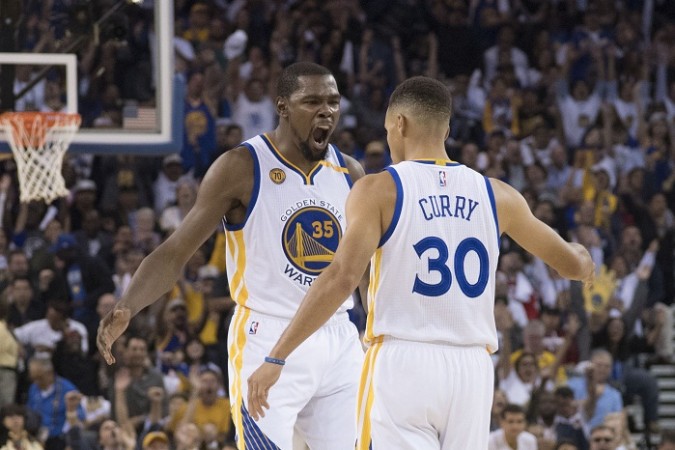 Golden State Warriors' Kevin Durant was in outstanding form, scoring 39 points against his former team Oklahoma City Thunder, as they won their fourth straight game of the season. The Warriors looked a well-oiled unit, playing some astounding basketball to outscore Thunder, 122-96.
However, this is Thunder's maiden loss of the season after winning their first four matches in an impressive manner. The Thunder were not only outplayed by Durant's brilliance, but also Stephen Curry and Klay Thompson's class. The duo scored points 21 and 18 points respectively in their big win.
Despite the loss, Thunder star Russell Westbrook and Victor Oladipo should be applauded as they came up with 20 and 21 points respectively.
As expected the match started on a tight note, with players from both the teams starting well, scoring good points as the score read 32-31 with Thunder taking one-point lead after the first quarter concluded.
But it was the second quarter, where Warriors looked amazing both in offense and defence, which tilted the game heavily towards the home team. The Warriors outscored 37-11 in the second quarter, and there was no looking back for Durant and co, who played some beautiful basketball to stretch the lead to 98-70 at the end of the third.
Against a team like Warriors, it is impossible to come from 28 points behind in the final quarter even if you have a quality player like Westbrook on your side. Thunder looked good in Q4, but it was too much for the team that scored 26 points as compared to Warriors 24.
With some amazing overall contribution from key Warriors players including Durant and Curry, the home team emerged victorious by 26 points as the scores read 122-96 at the end.
Warriors, following their opening day loss to San Antonio Spurs, have shown that they are the team to watch this season after defeating one of the strongest team in the NBA - Thunder. Warriors will be keen to continue that impressive win record in their upcoming matches. They face Lakers next, while Thunder will want to forget this result and get ready for their clash with Minnesota Timberwolves.