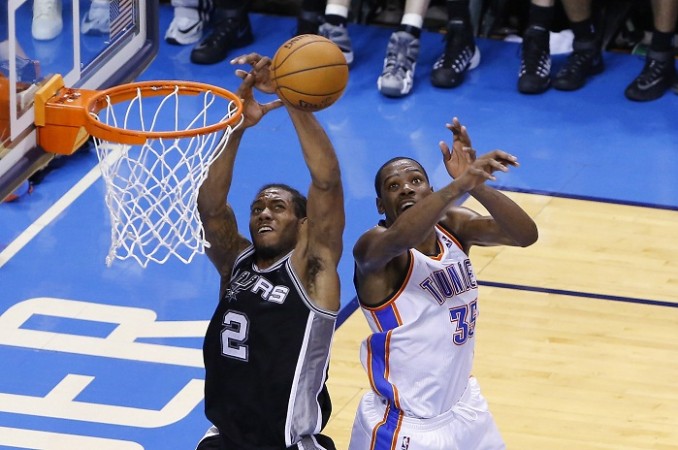 San Antonio Spurs defeated Oklahoma City Thunder 112-107 in overtime to win the Western Conference finals and book a clash with Miami Heat in the NBA Finals on Saturday night at the Chesapeake Energy Arena.
OKC started the game strongly and led by seven points at the halfway mark. Playing without Tony Parker, who left the court due to an ankle soreness, San Antonio rallied back in the third quarter with a 37-20 play and took a ten-point lead, heading into the final run of play.
Early in the fourth quarter, the Spurs built a 12-point lead but could not hold on as the Thunder took the game to OT after Russell Westbrook scored two free throws in the dying moments to keep Oklahoma alive in the eliminator.
Oklahoma took an early lead in overtime to make it 105-103 but San Antonio's Tim Duncan played aggressively and put the Spurs in a 110-107 lead, with 19 seconds remaining in the game and sealed the game for the hosts.
"It's unbelievable to regain that focus after that devastating loss we had last year," Duncan said.
Duncan racked up 19 points and 15 rebounds, Kawhi Leonard scored 17 points and 11 rebounds, Manu Ginobili had 15 points and six rebounds and Boris Diaw added 26 points for the Spurs. MVP Durant finished with 31 points and 14 rebounds and Westbrook scored 34 points, eight assists and seven rebounds for the Thunder.
Duncan stressed that the task is not finished yet as they have to face defending champions Heat in the finals and try to avenge last year's loss.
"We have four more [games] to win," Duncan said. "We'll do it this time."
Parker's injury is a concern for San Antonio and their coach Gregg Popovich said the Spurs' star has been struggling with the injury since game four. Diaw added that they do not know how severe Parker's injury is.
"We didn't know how much Tony was hurt in his ankle."
Popovich said he is satisfied with the victory and his team played pretty well.
"I have to be honest, this victory is really sweet because we know we played one hell of a team, and we take great satisfaction in that since they're so special."
Meanwhile, Oklahoma coach Scott Brooks said his team could not perform well in the paint and settled for too many jump shots in the game.
"We started settling for too many jump shots," Brooks said. "It just seemed like we couldn't get enough good looks at the basket. Defensively, they just had us scrambling around."
Find the highlights of Oklahoma City Thunder vs San Antonio Spurs HERE.