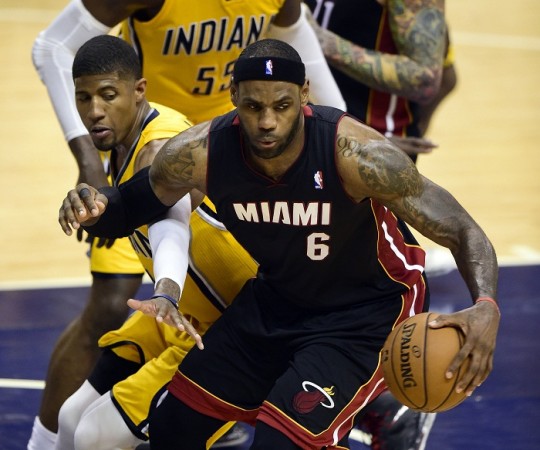 The Miami Heat defeated the Indiana Pacers 87-83 in Game 2 of the Eastern Conference finals to level the series at 1-1 at the Bankers Life Fieldhouse on Tuesday night.
Both teams were evenly matched in the first quarter, but the Heat built a 41-37 lead by the end of the second. Indiana rallied back in the third and took a 47-45 lead with a 10-2 run and extended it to 63-56 with just over two-minutes remaining in the quarter.
The Pacers were in a strong position at 73-69 midway through the final quarter, but LeBron James scored six straight points to spark a 12-2 run to seal the game for Miami.
James struggled for rhythm in the first three quarters and added just 10 points, but he and Dwyane Wade combined to score 20 points in the final quarter to seize the home-court advantage from Indiana.
"That's why they're the hundred million dollar guys," Miami's Norris Cole said. "They're unstoppable. They make the game easy for everyone else when they're in attack mode."
James finished with 22 points, seven rebounds and six assists and scored 12 points in the final run of play, while Wade finished with 23 points.
"Today it was just about how bad we wanted it," Wade said. "It wasn't about Xs and Os. It wasn't a perfect game by no stretch of the imagination. We kept digging down deep, and we got back to Miami Heat basketball."
Heat coach Erik Spoelstra said James was not in rhythm in the first 30 minutes, but he lifted his game when it was most required.
"He wasn't in rhythm through the first 30 minutes of the game, and he just found a way to break free on a couple of cuts, transitions and that just kind of got him going," Spoelstra said.
Paul George finished with 14 points and Lance Stephenson added 25 points for Indiana. Pacers' George Hill said they failed to finish off the game after playing well in the first three quarters.
"We were winning the whole night," Hill said. "We controlled the whole game until the last couple minutes."
Catch the highlights of Miami Heat v Indiana Pacers HERE.