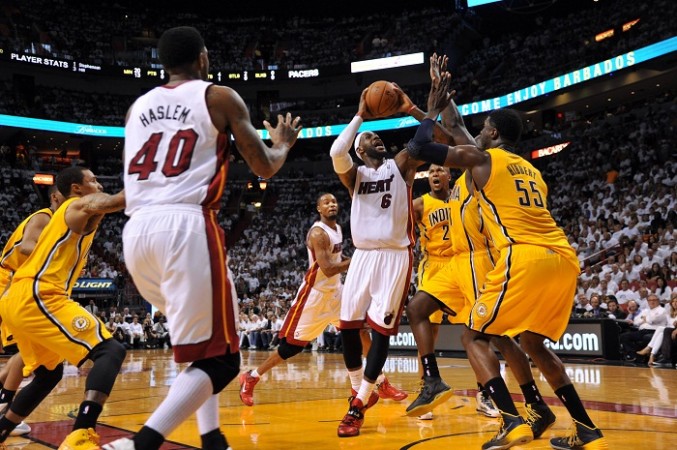 The defending champions Miami Heat rallied from a horrid start to beat the Indiana Pacers 99-87 in Game 3 of the Eastern Conference finals to go 2-1 up in the series at the American Airlines Arena on Saturday night.
Indiana started the game strongly and built a 21-14 lead in the first quarter and stretched it to 15 points in the second quarter. Miami didn't hit the panic button and made a comeback by scoring eight straight points in the third quarter to take a 52-51 lead for the first time in the game.
The Heat went 67-63 up with 1:21 minutes left on the clock in the third, and then 74-67 heading into the final quarter. Miami closed the final quarter with a 28-23 run, as LeBron James and Dwyane Wade scored 14 out of final 18 points.
James racked up 26 points, five rebounds and seven assists, while Wade finished the game with 23 points for the Heat.
"We just want to get better as the series goes on," James said. "We want to move their defense from side to side. When we do that, we give ourselves an opportunity to get to the lane. And when our shooters get going it definitely adds more space as you saw in the fourth quarter."
Indiana coach Frank Vogel said his players played well against the hosts, but wasn't able to capitalise on the early advantage.
"Tough loss for our guys," Vogel said. "Thought we competed pretty well, came out of the gates really strong, got off to a good start and then didn't manage our foul trouble well and didn't manage picking up their defensive intensity well."
Miami was held by Indiana in the initial phase of the game and Heat coach Erik Spoelstra said the Pacers are a good team as in previous games they have struggled against them.
"A lot of our situations that we've been through where we've struggled have been against this team," Spoelstra said. "That's what they do to you. They're very good. It's a function of their defense."
Paul George, who returned after suffering concussion in Game 2, scored 17 points. Roy Hibbert finished with 16 points, David West had 13 and Lance Stephenson scored 10 points and 11 rebounds for the Pacers.
"I think we need to stick to what we do," West said. "We got away from ourselves. We tried to make some stuff on the fly, which is not us."
Catch the highlights of Indiana Pacers vs Miami Heat HERE.