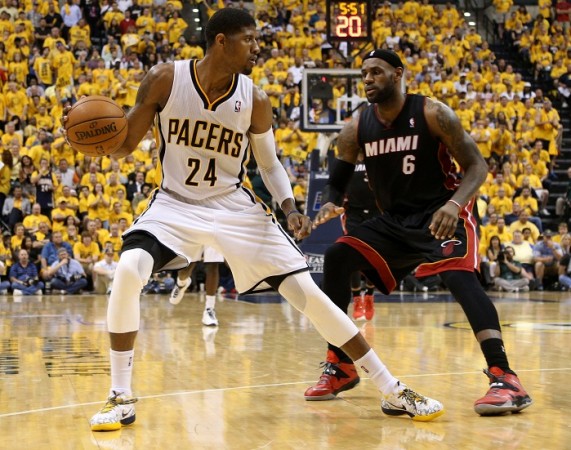 The Indiana Pacers staved off elimination in the fifth game of the Eastern Conference finals by defeating the Miami Heat 93-90 at the Bankers Life Fieldhouse on Wednesday night.
For Miami's LeBron James, it was a rare slip as he finished with just seven points, two rebounds and four assists during his 24 minutes on the court. James was forced to sit out most of the game because of foul trouble and finished with a career-low playoff performance.
Indiana's Paul George was the major difference between the two sides as he scored 21 points in the final quarter, eventually finishing with 37 points, six rebounds and two assists.
"I just felt it. I felt in rhythm. I had to be aggressive," George said. "I tried to come out and be aggressive to start this game off and I was getting looks. I got hot."
Indiana started the game strongly and built a 22-16 lead in the first quarter. Defending champions Miami fought back in the second quarter by restricting Indiana to just 11 points, while building an eight-point advantage.
The Pacers rallied back in the game when James was benched in the third, due to foul trouble, and finished the quarter with a 31-15 run. Miami had the chance to take the lead with 4.9 seconds left, but Chris Bosh missed a three-pointer.
"We still had enough opportunities to come away with a win," Miami's coach Erik Spoelstra said. "We just couldn't get over the hump."
Indiana extended their lead to 77-66 in the fourth quarter, but Miami rallied back and scored nine straight points to cut the score down to 77-75 with 3:51 minutes left, but George just had too much in the tank towards the end as the Pacers held on to put the series nicely poised at 3-2 in favour of the Heat.
"My message to the whole team was the light needs to be on green for all of us," Indiana's coach Frank Vogel said. "You need to go, you need to attack, you need to be aggressive. Paul took it and ran with it and took it to a crazy level."
Indiana's Lance Stephenson tried to distract four-time MVP James in the entire game, as once he blew in James' ear and then tried listening in during Miami's huddle. James said he is not affected by these tactics and was only concentrating on the upcoming games, as the Heat need just one victory to book the NBA finals berth.
"I'm just here to play basketball, man. All the extracurricular activities, I don't really get into," James said. "I'm just trying to win. We need one more win to get to the finals. That's my only concern. All the extra stuff, whatever Lance wants to do, I don't really care about that."
Find the Miami Heat vs Indiana Pacers Highlights HERE.