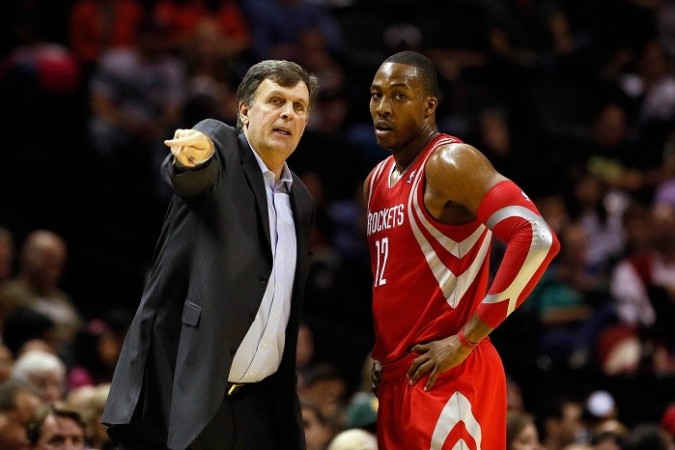 There are no hard feelings between Dwight Howard and the Los Angeles Lakers, at least that is what both parties would like everyone to believe.
Come Thursday [Friday morning in India] those feelings, or the lack there of, will be put to the test when the Houston Rockets, the team that Howard left to during free agency in July, welcome the center's former team -- the Lakers.
"There's no need to talk about what the Lakers could have done," Howard said. "I made my decision and I'm living with it. I'm happy where I'm at, I'm in a great place. Everybody should move forward. It's over with."
It does look like Howard is enjoying life in Houston and vice versa, with the Rockets enjoying their best start to the NBA regular season in six years, with a 4-1 start.
Apart from a poor loss to the LA Clippers at the Staples Center earlier this week, Houston have been pretty good with the superstar duo of James Harden and Howard gelling pretty well already.
"Dwight makes the whole game so much easier for each teammate," Harden said. "He draws double teams. He's a great passer. He dominates the post and he can score it. He does everything."
That is something that Howard could not do during his time with the Lakers, with the big man and Kobe Bryant unable to see eye to eye in a forgettable 2012-13 season, where the Lakers were knocked out of the first round of the playoffs after barely making it there.
"We have two different personalities," Bryant said of his relationship with Howard. "There's a certain way that I believe you have to approach the game in order to win championships. He had a different way that he felt like would be best and because of that it was tough to see eye to eye on [a] daily basis."
"There was definitely a lack of understanding and connection," Pau Gasol added. "I don't know how much tension there was. There was days when it was fine and everybody was on the same page and when things get a little rough, usually that's when the tensions occur and come up. It was a rough year, a lot of things didn't go our way and that made it that much more difficult."
The Lakers (2-3) have had a difficult start to the season, in the absence of the injured Bryant, and are coming off a big 123-104 loss to the Dallas Mavericks on Tuesday. LA are yet to win on the road and have lost by a combined 50 points in their two away games.
Houston also have the upperhand in their recent encounter ay the Toyota Center, having won four straight at home against the Lakers.
With Howard, who scored 29 points and 13 rebounds in the Rockets' 116-101 win over the Trail Blazers on Tuesday, having a point or two to prove it could well be a big mountain to climb for the Lakers on Thursday.
Where to watch
The game is scheduled for an 8 am IST start with live coverage on Sony Six.