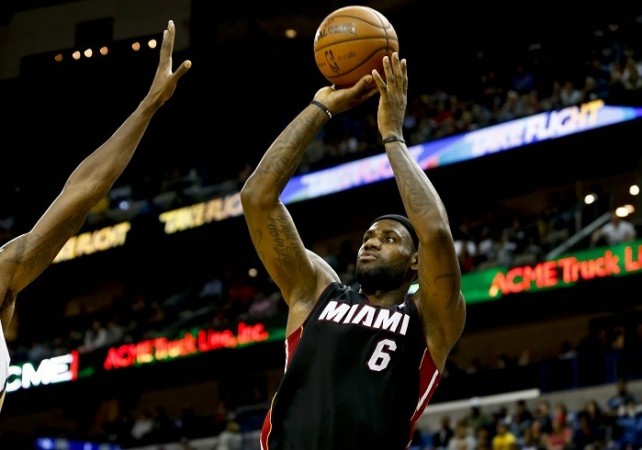 The Miami Heat head into the opening day of the NBA season expecting a physical battle against their Eastern Conference rivals the Chicago Bulls.
Training drills in preparation for the game against the Bulls featured Miami's assistant coaches holding American football pads as the likes of Lebron James and Dwyane Wade drove at them.
"It's all planned," Miami power forward Chris Bosh said of the drills. "We know they're big, physical and we know we have to finish."
So, the Heat have no illusions whatsoever on the kind of game that they are expecting on opening night, particularly after dropping the Bulls out of the playoffs last season.
"We don't like them, they don't like us," James said. "It's not unheard of. We all know how it is. We like the fact that it [opening game] is [against] the Bulls."
Preseason for the Bulls has pretty much been about the return of their marquee player Derrick Rose, who missed the entire season last year due to injury. Rose said him and his teammates will be in the locker room planning out their strategies to top the Heat when Miami raise their 2012-13 championship banner prior to the game.
"That's their ceremony, not ours," Rose said. "If we were getting our rings there would be a little bit of a distraction, but for us we know that we got to stay focused, come together as a team, and really take their first hit because they're definitely going to be on charge."
The Heat knows the feelings that Chicago will be going through as they prepare to face off, having gone through the same thing when they opened the season against Dallas, right after losing to the Mavericks in the 2011 Finals.
"We wanted to embarrass (the Mavericks) on their home floor," Bosh said. "We wanted to defecate on their night and we know (the Bulls) want to do that to us. They want to spoil what we have going and we're aware of that. We have to hit first."
Miami and Chicago have built up quite a rivalry over the past few years and the two teams are again expected to be up there at the top of the Eastern Conference.
"We're both trying to do something, trying to win [a championship]," Wade, who is Chicago born and bred, said. "You're going to run into each other along the way and you're going to dislike each other. They want to beat us as badly as we want to beat them.
"Our goal here is not to get bored. Don't get bored with trying to be great. We have to understand that we're champions and we're going to get every other team's best shot."
Where to watch
The game is scheduled for a 5.30 am IST start on Wednesday morning with live coverage on Sony Six.