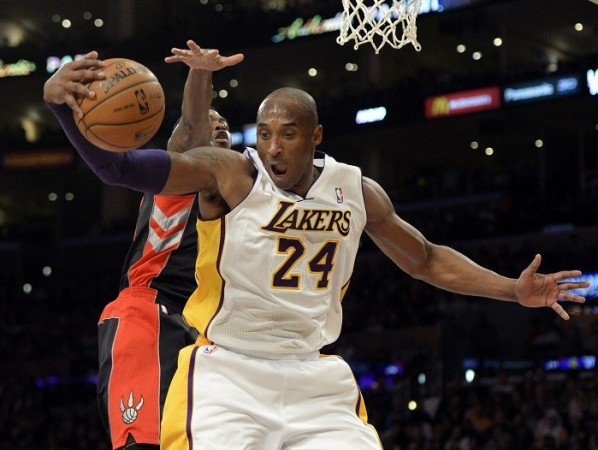 Kobe Bryant's long-awaited return from injury did not exactly go according to plan. The Los Angeles Lakers failed to pick up a win against the Toronto Raptors in the NBA on Sunday, with Bryant struggling for any kind of rhythm, not entirely surprising considering the amount of time he has been out.
Bryant, who came back after eight months out with a torn Achilles, managed nine points, eight rebounds, four assists, two steals and eight turnovers in 28 minutes against the Raptors and was critical of his own performance.
However, a day later, the superstar admitted perhaps it went as well as he could have hoped for, with Bryant and the LA Lakers, 10-10, now looking to find their groove when they host the Phoenix Suns on Tuesday night.
"It wasn't as bad as I thought it was," Bryant said after practice on Monday. "The turnovers and things like that, a lot of it was just mistiming. I made some pretty good reads, I got my guys some pretty good looks. In terms of a floor game, it wasn't as bad as I thought it was."
"[I need to] do the same thing I did in the first game, just do it better [against Phoenix]," Bryant added. "Just keep the turnovers under control and get my guys in position to be successful and see if I can't make a couple shots of my own."
Lakers coach Mike D'Antoni was happy to have his premier player back in the lineup and wants Bryant to start feeling like his old self as soon as possible.
"[We need to] get Kobe get back up to snuff," D'Antoni said. "It's a little bit of a process, but we'll do it. We know, and everybody knows, he's got to be the closer. As soon as we can get him there, the more times he is in that position, he'll get closer to doing it. I don't think there's any question about what we need to do. We just got to get better at it.
"Having Kobe back, we're going to have to find out different solutions and work some things out. "There's always that possibility that the flow is disrupted and you don't play well and we obviously didn't play well. It's a work in progress and we have to get going."
The Suns, 11-9, have been explosive on the offensive front this season and with the Lakers having the worst defensive record in the Western Conference, Phoenix, who average 101.2 points per game, will be confident of scoring at will.
Where to Watch Live
The game is scheduled for a 9am IST start with live coverage on Sony Six. You can also catch all the action via live streaming by clicking HERE.