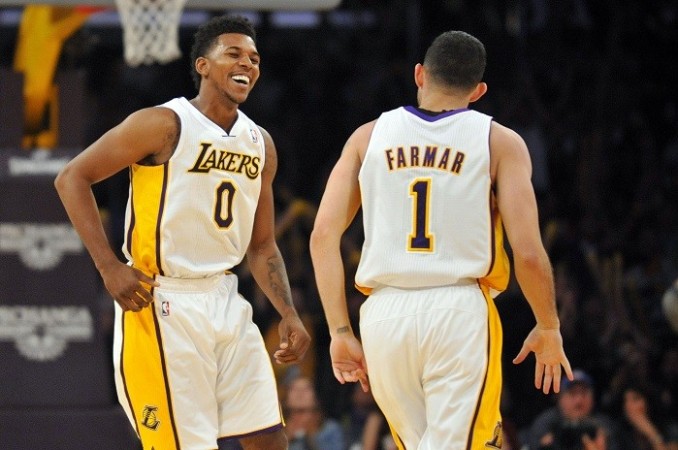 Kobe Bryant returned to training this week for the Los Angeles Lakers. While the news has come as a huge boost to the players, the Lakers will have to do without their main man when they host the Golden State Warriors.
Bryant has not played this season, and has been recuperating from an Achilles injury suffered seven months ago. The veteran returned to practice earlier this week, but the panic button was pressed amongst the fans yet again when news broke out that Bryant skipped practice on Thursday.
Lakers coach Mike D'Antoni, though, said it was to be expected after such a long layoff due to injury. "He had a hard two days and just took the day off, and he'll either ramp it up [Friday] or the next day," D'Antoni said during practice on Thursday.
"I think it's just precautionary. I know everybody is eager, but it's going to be a little bit of a process and [we will] make sure he is healthy when he comes back. It's just like training camp. By the third day, it's tough. And that's what he's kind of going through right now."
Pau Gasol, who had 12 points, seven assists and nine rebounds in the Lakers' 114-99 win over the Detroit Pistons on Sunday, also said he was not too concerned with the latest development on Bryant's recovery from injury.
"Not concerned at all," Gasol said. "I don't know when he's going to play, but if he's not going to play the next couple games, I think it's good for him to get a couple good practices in, take a step off, let's see how that Achilles reacts. Let it calm down, maybe. And then, pick it back up."
In the absence of Bryant and Steve Nash, for much of the season, D'Antoni, whose side is 5-7, has used 10 different starters, but has finally zoned-in on the first five in the last few games. The standout player during that time has been Jordan Hill, who is averaging 18.8 points and 12 rebounds, while setting career highs of 24 points and 17 rebounds in the win over Detroit.
"[Jordan's] playing at an All-Star level," D'Antoni said. "What he's doing is remarkable. There's no reason why he can't keep that up."
The Golden State Warriors (8-4) saw a four-game winning streak snapped by the Memphis Grizzlies on Wednesday, where they were without their premier player Stephen Curry, who was diagnosed with a mild concussion.
It is not know whether Curry will be available for the Lakers trip, and the likes of Andre Igoudala, who endured a torrid shooting night in the last game, will need to step up in Curry's absence.
Where to Watch Live
The game is scheduled for a 9 am IST start with live coverage on Sony Six in India. To catch the game via live streaming online click HERE. To watch the action live streaming in the U.S., click HERE.