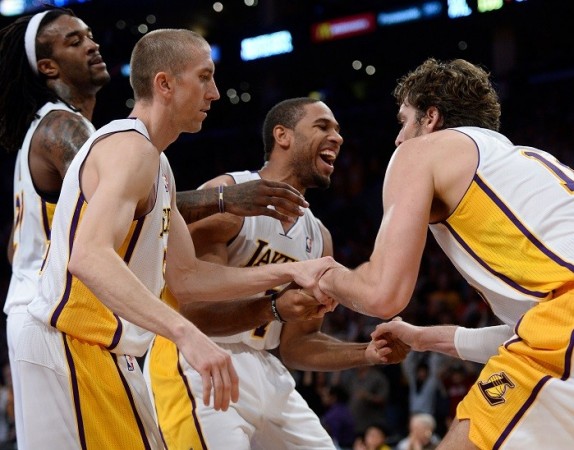 The Los Angeles Lakers are still finding their way towards identifying the best lineup without their superstar Kobe Bryant.
Bryant has not played for the Lakers at all this season, and his return is still very much up in the air as he battles a long-term Achilles injury.
The Lakers are 2-2 this season, and when they travel to the American Airlines Arena to face the Dallas Maverics, they will be counting on recent history. The Lakers have won their last five games in Dallas' home court, while holding an impressive 8-2 record since March of 2008.
Bryant, though, was in the lineup in all those games and Mike D'Antoni is going to have to figure out a way to make it a sixth straight Lakers victory over the Mavs without their best player.
The Lakers started the NBA season off with a win over Clippers, before going on a two-game losing streak. That run ended with a narrow 105-103 victory the Atlanta Hawks on Sunday and Xavier Henry, who top-scored in the game with 18 points while making his first start, believes it will take some more time for the team to gel and understand each other.
"We're still trying to find the right combinations and rack up the wins while we do it," Henry said. "We have a lot of new guys, and a lot of guys still need to learn how to play with each other. We're trying new lineups and stuff, so we're still going to be working and trying to compete."
The Lakers have also not been helped by Steve Nash's injury worries with the veteran point guard admitting he has been struggling with nerve damage which has come from a fractured left leg that he suffered last season.
"I'm still extremely optimistic," said Nash, who has averaged 7.0 points and 5.3 assists in three games this season. "I just think maybe the level of health is different. It is going to be a day-to-day struggle for me, and that's something I'm up for, though, and I'm optimistic that if I don't have any freak situations again I can try to get on top on all of these things.
"Really, I'm still fighting things that happened because of the broken leg, with all of the nerve issues. So, it is what it is. I'm optimistic still that I can get to the highest level I can get at this stage. I think if [Sunday] night [where he had 13 points and 6 assists in 29 minutes] is an indication, if I can get up another level or two, I'm going to be pretty effective."
The Mavericks, 2-1, are on a roll on the offensive floor, averaging 111.3 ppg, with Dirk Nowitzki and Monta Ellis leading the scorers. Their defence though is a worry and that is precisely what the Lakers will have to take advantage of when the two sides meet.
Where to watch
The game is scheduled for a 7.00 am IST start on Wednesday morning with no live coverage.