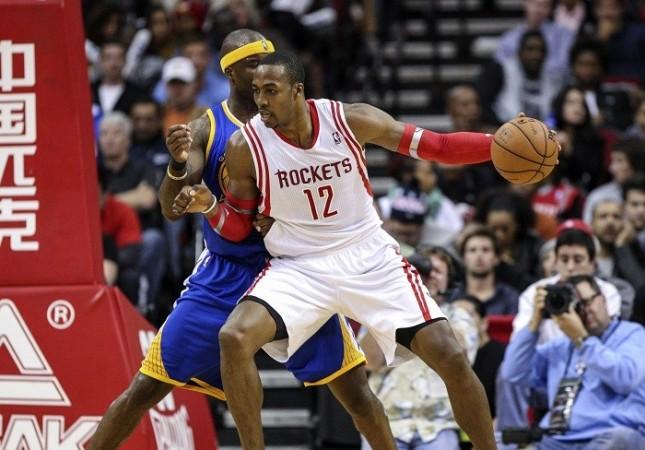 The Houston Rockets could have Jeremy Lin back from injury when they travel to Portland to take on the Trail Blazers.
Lin has been out of action since suffering a right knee sprain nearly two weeks ago, but after taking part in practice in the last couple of days, the guard is confident of making a return against the Western Conference-leading Trail Blazers.
"I feel good, no limitations," Lin said on Tuesday. "I'll be back [for Thursday's game]. "I'm full go. [I might need] a little conditioning, or maybe I'm not jumping as high off of that right foot, but I never really jumped that high off the right foot, anyway."
For the Rockets, 15-7, it has been about incorporating Dwight Howard into their lineup to make the center as potent as possible. There were major signs of the Howard-James Harden tandem gelling together in the past two games, which has seen the superstar duo end up with great individual numbers.
Harden had 34 points, with Howard adding 20 and 18 rebounds in a comfortable 105-83 victory over Golden State last Friday, before Houston got the better of the Orlando Magic on Sunday with Harden nearly finishing with a triple double and Howard completing his first 20-20 game as a Rocket.
"We're reading that better and we're learning how to play around Dwight," Rockets assistant coach Kelvin Sampson said. "I thought early on we were probably force-feeding him a little too much.
"Now we're being a little bit more selective and Dwight is doing a good job of passing. Dwight can get a lot of touches -- that doesn't mean he's going to shoot it a lot -- Dwight's a very willing passer. So we're playing through him [better] and then James -- James has just been a lot more efficient.
"It's just making sure that we're moving, whether the ball is moving or our bodies are moving, and actually we are getting better at that. James is learning to trust his teammates a little bit better and we're making unselfish cuts.
"For example, in a random break, if we've got the slot and the corner covered and the ball's coming down, well somebody's got to get to the other side of the floor, and for us that's usually the slot guy."
For Portland, 18-4, it will be about gaining revenge against the Rockets, who handed them their biggest loss of the season last month. The Trail Blazers have been terrific in the NBA this season, surprising many with their consistency.
It will now just be a matter of if they can sustain the form throughout the season, and the Rockets are sure to provide a stern test.
Where to Watch Live
The game is scheduled for a 9 am IST start with live coverage on Sony Six. You can also catch the game via live streaming online by clicking HERE.
Expected starting lineups: Houston Rockets: Patrick Beverley, James Harden, Chandler Parsons, Terrence Jones, Dwight Howard.
Portland Trail Blazers: Damien Lillard, Wesley Matthews, Nicolas Batum, LaMarcus Aldridge, Robin Lopez.